New Delhi:
Highlights
Aaradhya photobombs Aishwarya's selfies with fans, the actress said
Aaradhya is aware of who we are, said Aishwarya Rai
Aaradhya accompanies Aishwarya at Cannes Film Festival
Aishwarya Rai Bachchan's daughter Aaradhya has been her companion of many years at
Cannes Film Festival
. Aishwarya, 43, attends the film festival as a L'oreal face and her daughter
Aaradhya, 5, keeps her company
. Aishwarya told the media through a Facetime session from Cannes that Aaradhya is aware of her stardom, reports news agency PTI. "She has had a very normal upbringing till now. It's not like we sit her down and show her our films. I can't say she is blissfully unaware, she is aware of what we do. She obviously sees our posters all over the city. She is aware of who we are," said Aishwarya.
Recently fan clubs shared pictures of Aarydhya, dressed in a fluffy pink gown, walk the red carpet (of sorts) with her mom on Saturday. Aishwarya, who looked fabulous in a red Ralph & Russo creation, held her daughter's hand as she navigated her way through the crowd to the red carpet. Here are snippets of Aaradhya at Cannes.
#MotherDaughter moment is the best. #CannesQueenAishwaryapic.twitter.com/2iQ8yJr3Y7

— abarb (@juzzme25) May 20, 2017
DAY 2- STILL SLAYYING Mama Aishwarya AT HER DUTY! #CannesQueenAishwaryapic.twitter.com/2kihxQ69GF

— A. (@Catestyy) May 20, 2017
"Because she is travelling with me, meeting new people, seeing our world, I don't have to sit her down and tell her what her mother does. She sees it, she is growing up with. She has now developed an ease (with media) which you all are seeing," said Aishwarya, reports PTI.
Talking about Aaradhya's tryst with the paparazzi and media in general, Aishwarya said: "She sees photographers outside our home, airports, everywhere. People come for selfie requests so sometimes she photobombs them, sometimes she says 'Mumma, not me na?' When someone is clicking pictures, she will back out. There were some pictures where she is waving, I asked her what she was doing and she said I was telling them 'No, no photos, bas theek hai.' That was so cute. I realised she also posed for pictures when I was busy."
Here's an instance of Aaradhya posing for the shutterbugs at the Mumbai airport before she left for Cannes with her mother last week: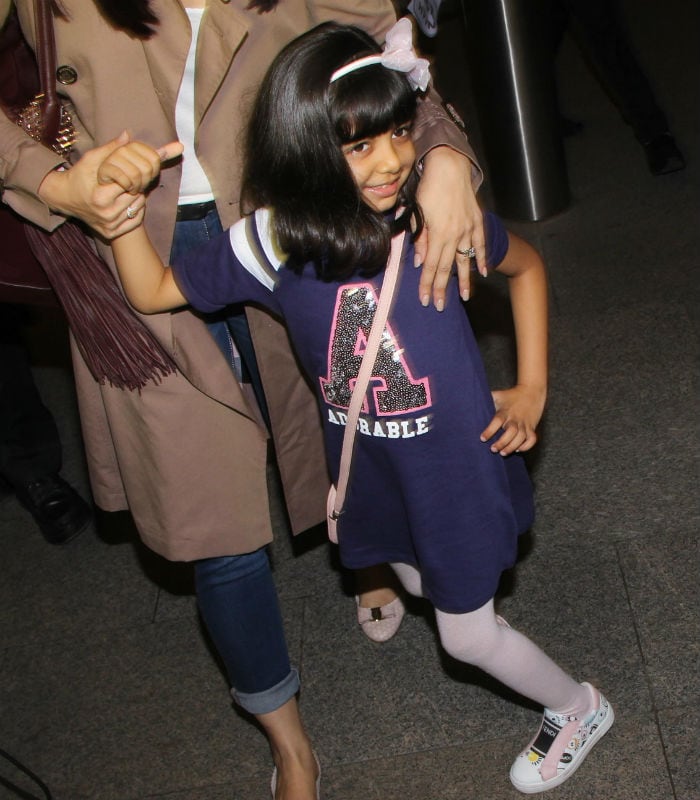 "This kind of spontaneously naturalness is lovely and we have encouraged her to be. I am very particular that Aaradhya evolves and develops into her own person and she finds her own calling in life," said Aishwarya.
Aishwarya picked a spectacular Michael Cinco gown for her first red carpet appearance this year. She looked like a modern-day Cinderella. "I joked with her teachers that I am going for the weekend to play fancy dress for Aaradhya so she kind of gets to see me in princess gowns," Aishwarya told reports.
(With PTI inputs)