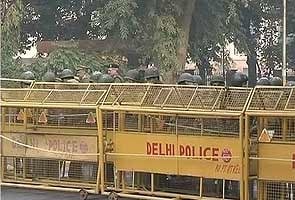 New Delhi:
Delhi Chief Minister Sheila Dikshit has asked Home Minister Sushil Kumar Shinde to lift restrictions on holding peaceful demonstration in memory of the 23-year-old gang-rape victim in and around India Gate.
"The Chief Minister feels there should not be any restrictions on holding peaceful demonstrations in and around India Gate," highly-placed sources said.
They said the Chief Minister's views on the issue have been conveyed to the Home Minister.
After a young woman who had been gang-raped in a moving bus died at a hospital in Singapore, the Indian government has appealed for calm. India Gate and the roads leading up to it in the heart of Delhi have been sealed to prevent protesters from storming the high-security area around the Prime Minister's Office, Parliament and important government buildings including Rashtrapati Bhavan.
A large number of police personnel have been deployed at Rajpath, the stretch connecting India Gate and Raisina Hills. Ten metro stations near India Gate have also been closed.
The police, however, said that peaceful protests will be allowed at two locations often used to show dissent - Jantar Mantar and Ramlila Grounds.
Since the barbarous assault on 'Amanat' (NOT her real name) on December 16, rage and sorrow have intersected in protests, which turned violent in Delhi last weekend.
In near-daily protests, students and others have been asking for a quick trial for the six men accused of raping the medical student, stricter laws to punish sexual crimes, and better security for women in public places.
Last weekend, thousands of students gathered at India Gate tried to rush through police barricades to Rashtrapati Bhavan, the President's home. Miscreants in the crowd set a car and wooden benches on fire. The police used water cannons, tear gas and batons on the crowd, and was criticised for not showing restraint.
(With inputs from PTI)