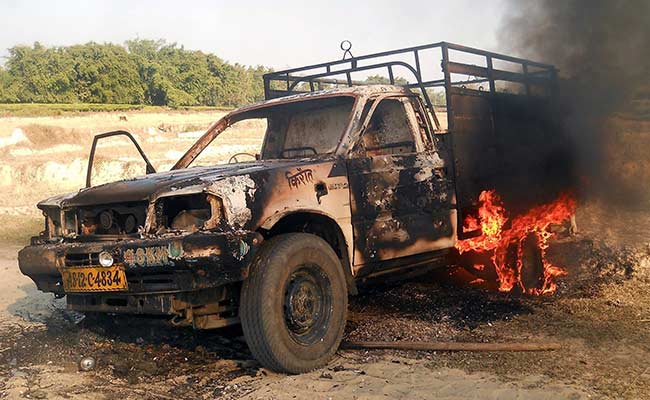 Guwahati:
Bodo militants launched a fresh attack on Wednesday in Udalguri, the fourth district of Assam where violence has now spread, a day after the serial attacks in three other districts killed 76 people. 21 women and 18 children are among those killed.
Home Minister Rajnath Singh will visit two of the violence-hit districts, Sonitpur and Kokrajhar, today. Mr Singh arrived in the state on Wednesday to assess the situation and held meeting with Chief Minister Tarun Gogoi and top security officials. Calling the attacks an "act of terror", Mr Rajnath Singh said, "No talks with the militants even if they sue for peace. They will be prosecuted under terror laws."
The minister said an all-out joint offensive will be launched by the police, paramilitary forces and the Army. There had been intelligence inputs about possible attacks by the NDFB, but security forces could not reach in time, he added.
In Udalguri, a breakaway group of NDFB set fire to houses and opened fire at villagers yesterday. In the crossfire with the police, one tribal person was injured, said the local police. (
'Kill All Non-Bodos,' Said the Radio Message From Assam
)
Retaliatory attacks took place in the morning on Bodo settlements, in which three people died. Curfew has now been clamped in all the affected areas under Sonitpur, Chirang, Kokrajhar and Udalguri districts in North Assam.
The tribals held a protest, during which the police opened fire, killing five people. The police claimed hundreds of plantation workers armed with bows and arrows defied curfew to surround police stations in Sonitpur district, the area worst hit by the militant violence.
On Tuesday evening, a breakaway group of NDFB, demanding a separate homeland for indigenous Bodo tribesmen, went on a rampage. Four attacks in two districts claimed the lives of 62 people. "This is one of the most barbaric attacks in recent times with the militants not even sparing infants," said Assam Chief Minister Tarun Gogoi.
The Centre said it was rushing about 5,000 paramilitary personnel at the request of Assam government, but the Chief Minister has asked for more security personnel. Around 2,500 people have fled their homes and are staying in relief camps after the attack, an official said.
The state government came under fire for the ongoing situation. "There is a total failure of law and order in Assam. The Assam government, in particular, has failed to protect its people," said Union Sports Minister Sarbananda Sonowal, who hails from Assam. (
As Assam Burned With Violence, Top Bureaucrat Enjoyed Elephant Rides
)
At least 10,000 people, most of them civilians, have been killed in Assam in various clashes over the last three decades.