New Delhi:
Highlights
Sena MP Ravindra Gaikwad hit Air India manager last week
Refuses to apologise, party backs him, airlines ban him
Air India cancels his Mumbai-Delhi ticket for tomorrow
For the second time in less than a week, Air India has refused to fly
Ravindra Gaikwad
, a Shiv Sena parliamentarian, who assaulted an airline manager last week, bragging, "I hit him with my slipper 25 times." The Sena, like other parties, has objected to a ban on Mr Gaikwad declared by an industry association of airlines after his unfettered assault on a 60-year-old manager with Air India, provoked by his unhappiness about flying economy despite holding a business class ticket.
Air India has pointed out it didn't have an option - the Pune-Delhi flight that Mr Gaikwad opted for does not have a business section, a fact that it says the MP's office was alerted to.
That fact notwithstanding, the
Sena has said it is Air India who must introspect
over its "poor service". Other parties have agreed that a "blanket ban" on the punch-throwing MP is going too far. Lok Sabha Speaker
Sumitra Mahajan has said the government should find a solution
that allows Mr Gaikwad in the air, claiming that sometimes, MPs need to travel by plane to get to parliament.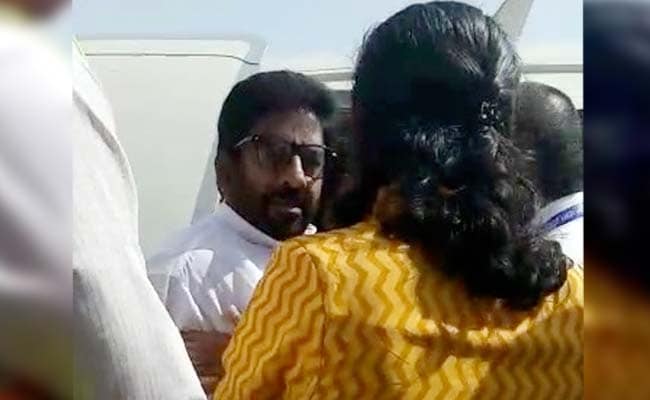 After Mr Gaikwad told reporters in Delhi last week that he felt no contrition for his actions - the manager says the politician broke his glasses and tried to push him off the stairwell used to disembark passengers - his ticket back to Mumbai was invalidated first by Air India and then by private carrier Indigo. The Sena leader then boarded a train to Mumbai, but disembarked earlier than his destination, reportedly to avoid media attention.
This evening, he is headed to Delhi on another train to attend parliament. Air India has filed two criminal cases against him; the police said it has questioned 14 people connected to the incident, but has yet to speak to the MP.
Sources in the government say that a plan is being constructed to prevent a blanket ban by airlines on passengers. When the election for the next President of India is held in July, the BJP could do with the 30,000 votes that the Sena has. That has no bearing on how the deviant MP's being handled, said Sanjay Raut, Sena spokesperson. "The two are unrelated. He must be punished under the IPC by the court, but not the airlines. Let the law take its course."
Get the latest election news, live updates and election schedule for Lok Sabha Elections 2019 on ndtv.com/elections. Like us on Facebook or follow us on Twitter and Instagram for updates from each of the 543 parliamentary seats for the 2019 Indian general elections.