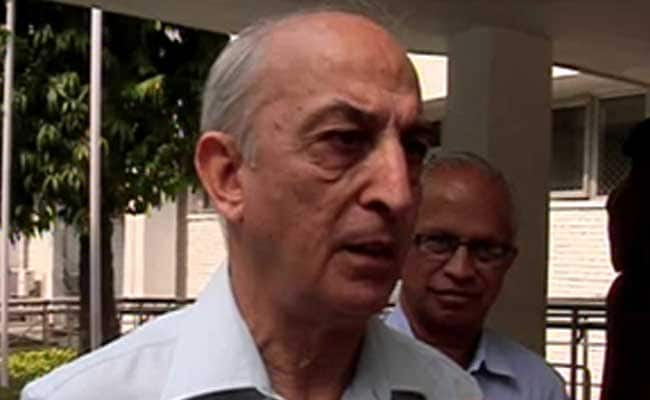 New Delhi:
The country's former top auditor VK Shunglu whose report on the AAP government's files recently made headlines has a new task at hand. The education board, CBSE wants Mr Shunglu to put an end to "blatant violations" of rules at schools run by the Delhi Public School Society that he heads.
Three schools run by the DPS Society - including DPS Mathura Road and DPS RK Puram in the national capital - are among the 11 schools issued notices by CBSE over the last two months for alleged violation of norms. Nearly 20,000 schools are affiliated to the education board across the country.
Before urging the 1962-batch retired Indian Administrative Service officer to intervene, the CBSE stressed that there had been "a spate of complaints and grievances" against schools run by the society and its franchisee schools for violations "which is a cause of serious concern".
The society's website lists about over 200 schools across the country, most of them reportedly run on franchisee basis.
Mr Shunglu, who retired as the head of the auditing body, CAG, in 2002, is the DPS Society chairman. He had earlier headed an inquiry into the Commonwealth Games scandal of 2010. Last year, he headed the panel that has indicted the Aam Aadmi Party government in Delhi for abuse of power.
The CBSE's show cause notice, in one case, noted that the society was "headed by a former civil servant who is known for his knowledge and understanding of rules and regulations".
The board said it "believes" such an experienced and senior officer would ensure complete adherence to the rulebook.
"However, it appears that the chairman of the society is oblivion to such blatant violations of rules and illegal actions of the DPSS and if brought to his notice, immediate remedial measures would be taken at his level (sic)," the CBSE notice said. A copy was marked to Mr Shunglu's office at the society too.
In both DPS schools in the capital that have received notice, the CBSE had, among other reasons, faulted the school management for retaining the school principal despite crossing the retirement age of 60. This, the CBSE insisted, was illegal.
A PTI report said the authorities at the two schools, when contacted, said they had not received any such notices from the CBSE yet.