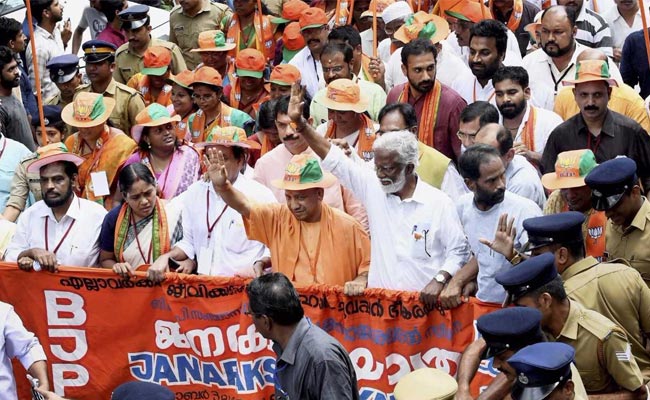 Keecheri, Kerala:
Yogi Adityanath's rejoinder came a day after the CPM made its hospital barb at him. The Uttar Pradesh Chief Minister waited to get to Kerala, where he joined his party's 15-day relay walk through the state to highlight what it has called the ruling CPM's "murder politics" targeting BJP workers.
"In one year, there have been more than 300 deaths in Kerala due to dengue and several hundred deaths due to chikungunya. This shows the CPM government is not handling its responsibility," Yogi Adityanath told NDTV in the state's Keecheri, where he had halted after walking several kilometres, flanked by hundreds of party workers holding BJP flags.
"Today, we invite UP CM Yogi to visit Kerala hospitals to learn how to run hospitals effectively," the CPM had tweeted yesterday, soon after it became known that the UP chief minister would take the baton from BJP chief Amit Shah, who launched the BJP's Jan Raksha (Protect the people) yatra yesterday from Kannur, the home base of Kerala Chief Minister Pinarayi Vijayan.
The CPM tweet referred to the death of many children at a hospital in August this year in the UP chief minister's home town Gorakhpur, some allegedly because oxygen ran out. Yogi Adityanath's government drew severe criticism over how government hospitals are run in the state, including in a place that the chief minister has represented for years in Parliament. Yogi Adityanath, who is a priest, also heads the Gorakhnath temple in the heart of Gorakhpur.
By the end of the day today, Yogi Adityanath walked around 13 km and addressed a rally in Kannur town, notorious for political clashes, especially between CPM cadres and those of the BJP and its ideological mentor the RSS.
The UP chief minister said the BJP's campaign against "Jihadi-Red terror" and political violence was drawing big crowds. "There is no scope for political violence in a democracy, But unfortunately Kerala, God's own land, is witnessing politically sponsored violence," he said, vowing to "make people aware about the misrule of the CPI(M)."
The BJP yatra, he said, would "generate awareness on the violence and killings of political workers and those of our ideology. This yatra is a mirror to the governments of Kerala, Tripura and West Bengal to repent and put an end to the killing of innocent people," he said.
Yesterday, Amit Shah said, "CPI(M) leader and Kerala Chief Minister Vijayan is directly responsible for all political murders in Kerala."
The CPM has accused the BJP of "deliberately inciting violence" against its leaders and cadres. "Amit Shah is deliberately inciting violence against CPI (M) leaders and its workers. We are a recognised national party. We are here not because of Shah but because of the people. We will not tolerate this," said CPM leader Brinda Karat.
More top BJP leaders will join the yatra by turns, including Maharashtra Chief Minister Devendra Fadnavis and Goa Chief Minister Manohar Parrikar.