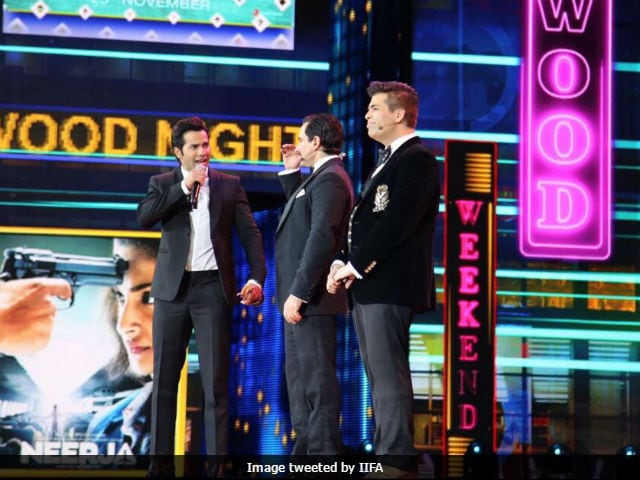 Highlights
Saif to Varun: "You are here because of your Papa"
Varun to Saif: "And you're here because of your mummy"
KJo, Saif and Varun said in unison: "Nepotism rocks"
New Jersey:
Filmmaker Karan Johar invoked the controversy over nepotism in Bollywood at the
IIFA Awards
in New Jersey on the weekend, taking a dig at actress Kangana Ranaut in a set piece with colleagues Saif Ali Khan and Varun Dhawan. Karan, son of producer Yash Johar, and Saif, son of actress Sharmila Tagore, co-hosted the IIFA Awards, where Varun Dhawan, son of director David Dhawan, won Best Actor In A Comic Role for his work in
Dishoom
. As Varun joined Karan Johar and Saif Ali Khan onstage to collect his award, Saif - who is Kangana's co-star from Rangoon - referenced the debate that caused such turmoil in Bollywood earlier this year.
"You are here because of your Papa," Saif Ali Khan said. To which Varun Dhawan responded, "And you're here because of your mummy." Karan Johar added, "I am here because of my Papa." The trio then said in unison: "Nepotism rocks."
On Twitter, a barrage of criticism followed, describing what the three men said as unfunny and calling them out for joking about Kangana in her absence. Those tweeting included Congress leader Abhishek Manu Singhvi:
I'd like to see the likes of Karan Johar, Saif & Varun Dhawan try their Nepotism humor when Kangana is in their presence. #IIFA

— Abhishek Singhvi (@DrAMSinghvi) July 17, 2017
I don't know what kind of entitlement you need to actually find 'nepotism rocks' funny. Like yeah it did for you and that makes you a loser.

— Floof. (@meownologue) July 17, 2017
@Varun_dvn ..am ur ardent fan n I believe there nothing wrong in Nepotism but attacking a girl on stage by her name -Not acceptable I feel

— Monalisa (@Finallyfoundme) July 17, 2017
Three overgrown children got on stage at #IIFA2017 and hollered "nepotism rocks". Real mature. Mantastic.

— Coconut Kanmani (@HazeedaVijay) July 17, 2017
In February this year, Kangana Ranaut had called Karan Johar 'intolerant' towards outsiders and a 'flag bearer of nepotism' on his popular chat show
Koffee With Karan
. It prompted a pointed exchange between the two, via interviews to separate media outlets.
Speaking at an event in London a few weeks later,
Karan Johar said that he was done with the 31-year-old actress playing the 'woman and victim card.'
Kangana's rejoinder appeared in an interview with
Mumbai Mirror
: "I use every card possible. At the workplace, it's the badass card to fight cutthroat competition. With my family and loved ones, it's the love card. When fighting the world, it's the dignity card, and for a seat in a bus, it's the woman card."
"Why is Karan Johar trying to shame a woman for being a woman? This kind of talk is demeaning to all women. I can't speak for Karan Johar's understanding of nepotism. If he thinks that it is restricted to nephews, daughters and cousins, I have nothing to say. But, to say that he chose not to give me work is to mock an artiste. His memory appears to be poor because we worked together in a movie (
Ungli
), which was produced by him. And quickly realised our sensibilities did not match," she added.
Other celebrities weighed in, cautiously, on Karan Johar's side.
Aamir Khan said that helping friends and family was a 'normal human tendency
,'
Sonam Kapoor said on NDTV Spotlight that she found Kangana 'very entertaining,'
Karan's protege Alia Bhatt said too much was being made of the issue, and actresses Anushka Sharma and Swara Bhaskar - neither of whom have Bollywood roots - denied nepotism exists in the industry.
Karan Johar had the last word in the matter, writing in his column for NDTV.com
: "I accept that nepotism is a reality, that it exists. Nepotism is a result of easy access to an exceptional resource. I acknowledge that my father was a producer and that made my first film, even the idea of it, possible. But let's also not forget that I started as the son of a producer with five failures behind him."
Kangana Ranaut, who will next be seen in director Hansal Mehta's
Simran
, did not attend the IIFA Awards. Her third
Rangoon
co-star
Shahid Kapoor won Best Actor for his performance in Udta Punjab
.