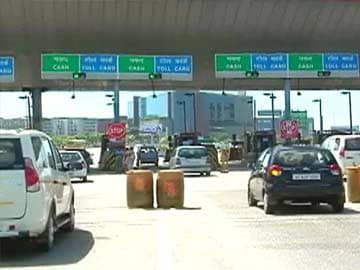 Gurgaon:
Villagers living along the Delhi-Gurgaon expressway on Monday regained their right to get exemption from paying toll tax for commercial vehicles as the authorities have opened special lanes dedicated to the locals.
A decision in this regard came hours after angry villagers forced open 22 toll gates in Kherki Daula toll plaza for over two hours, demanding continuation of exemption in toll for their commercial vehicles.
"We have decided to have a special lane on both the sides of toll for locals from which villagers can pass after showing their identity cards without paying the toll fee," Gurgaon Additional Deputy Commissioner Pushpender Singh Chauhan told reporters.
Residents of Manesar, Shikohpur, Sikanderpur, Sihi, Kherki Daula, Narsinghpur, Mohammadpur, Rampura, Nakhraula and other villages took part in the protest, in which two people sustained injures.
Millennium City Expressway Private Limited (MCEPL) is the concessionaire company of Gurgaon expressway since May 19, 2014.
"We have been exempted from paying toll fee since from the establishment of the toll but the company had on Sunday started collecting toll from us and we are protesting it," Om Prakash Yadav, a protest leader told IANS.
S. Raghuraman, CEO MCEPL told IANS: "We are collecting the toll as per rules. How can we exempt the commercial vehicles? ...On an average 12 to 14 thousand vehicles are passing daily without paying toll causing heavy losses."