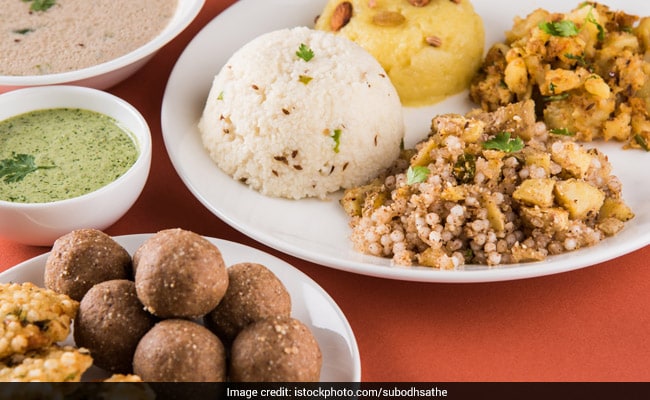 Chaitra
Navratri
2018 is here. Falling near the spring equinox in the month of Chaitra, these 9 days are
celebrated with fast
and prayers. This is also a perfect time to shed some weight without starving or getting depleted of essential nutrients. It's quite simple actually - just replace the high calorie, high fat and sugar loaded avatars with normal homemade preparations. Navratri food is a wonderful change from normal eating as all the foods allowed during this period are nutrient-rich and the change in eating pattern itself is a great rejuvenator for the entire body!

Before we plan our meals, let's get to know our ingredients:
Buckwheat Flour: This flour is gluten-free which helps give our body a break from gluten-rich foods that we tend to consume almost daily. It is rich in flavonoids and also has good proteins. One serving of the flour can provide 16% of the daily phosphorus and 22% of magnesium required by the body. This whole grain is a source of fibre-soluble, insoluble and resistant starch which helps in providing early satiety and also works as a pre-biotic food for gut bacteria. Make normal chapattis and use groats to make porridges.
Singhara: Its energy quotient is quite high, making it a good substitute to regular grains. Not only is it gluten-free, but also provides our body with phosphorus and various antioxidants. Apart from this, it has also been found to possess anti-bacterial and anti-inflammatory properties. Being rich in potassium and low in sodium, it provides relief from bloating and water retention. You can use it as a flour or as a fruit.

(Also Read: 10 Delicious Recipes Without Using Onion And Garlic)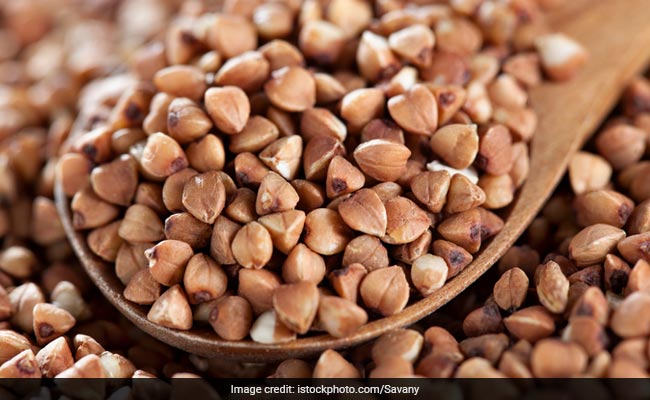 This flour is gluten-free which helps give our body a break from gluten-rich foods​

Samak ke Chawal or Samai: Also known as little millet, samai it is gluten-free and has the highest amount of fibre in it among other cereal grains. It is an excellent source of iron and its one serving of 30 gms provides 16% of daily requirement. It makes for an excellent salad with fruits and vegetables.
Quinoa: This wonder ingredient is a powerhouse of antioxidants. It has all the 9 essential amino acids that make it a good source of protein. Loaded with fibre and a low GI, quinoa makes for an ideal choice for weight-watchers. Cook it like rice or pulao. Its flour can be used to make rotis and dosas as well.
Pumpkin: It is one of the richest sources of beta-carotene, a potent antioxidant for our body. In addition, it contains Vitamin C which is full of health benefiting properties. This combination makes it an immunity booster and a natural skin food. Very low in calories, it fits in perfectly with a weight management plan. Grill it, roast it or cook it traditionally.
Potatoes: Don't worry, they do fit in with a weight loss regimen. 30gms of cereals provide 100 calories while about 70g of potato provides about 63 kcal. These are rich in potassium, Vitamin B6 and various antioxidants. Cook them with their skin and boil or bake instead of frying.
Let's use these awesome foods for the 8 day plan:

Breakfast
Lunch
Dinner
Day 1
Kuttu Cheela
Spiced Grilled Paneer Tikka
Quinoa pulao
Milk
Cucumber and Beetroot salad
Pumpkin
Apple
Dahi
Mango
Day 2
Mixed fruit salad-500g
Sama ke chawal pulao
Amaranth Roti
30g Almonds and 15 gms sunflower seeds
Ghiya
Paneer Gravy
Dahi
Fruit
Day 3
Milk and banana shake
Sago pulao
Singhara atta and Paneer cutlet (shallow fried)
Baked aloo Cutlet
Dahi
Papaya
Day 4
25g Almonds, 25g Chia seeds
Kuttu Roti Roll with palak and Paneer
Quinoa Pulao
Dahi
Ghiya
Fruit
Fruit
Dahi
Day 5
Fruit Chaat- 500gms
Makhana and Arbi chops-shallow fried
Kuttu roti
Paneer
Cold Coffee
Pumpkin
Dahi
Fruit
Day 6
Sama Chawal atta Cheela/uttapam/idly
Amaranth Roti
Paneer,tomato and basil tossed salad
Coconut Chutney
Ghiya
Baked potato skins
Papaya
Dahi
Apple
Milk
Day 7
25g Almonds, 25g Chia seeds
Kuttu and vegetable Stuffed Roti
Quinoa
Dahi
Dahi
Saute vegetables- 500gms
Fruit
Fruit
Day 8
Singhara atta Roti
Sama ke chawal ki khicri
Aloo cutlets
Pumpkin
Dahi
Paneer and spinach salad
Milk
Fruit
Fruit
1. All meals should be taken at a gap of 5 hours from the finish of the previous meal. So if breakfast finishes at about 9am, lunch will start at 2pm, and likewise dinner should not be later than 9pm.
2. Each meal can last for one hour. So eat your meal, wait for about half an hour and then have a cup of tea or coffee to finish off.
3. In between meals, just have water, fresh lemon water without sugar and coconut water. Avoid tea, coffee, juices etc.
Some Pointers To Help You Through:
The serving portion for cereals i.e. kuttu, amaranth, samai, sago, quinoa is 30gms. Potato, sweet potato serving is 60g.
Protein portions are: paneer 70g, dahi 250g, milk 300ml.
For vegetables, you can choose any according to your taste.
Avoid juices, both fresh and packaged.
Add no or minimum sugar to your food.


Wishing you all a healthy Navratri 2018!