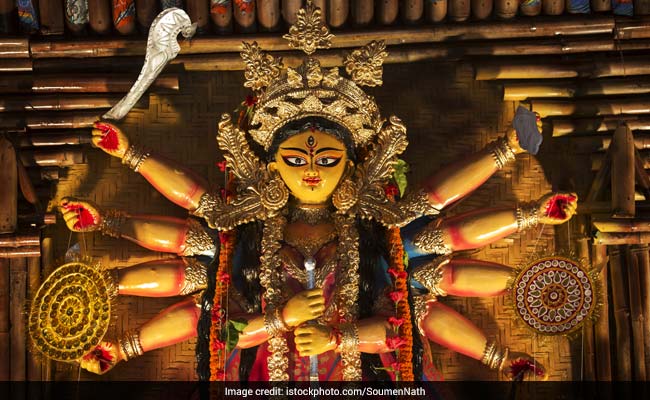 Sharad Navratri 2017 celebrations have started. The nine-day long festival will culminate on 29th September (Navami). Dussehra or the Vijay Dashmi would be celebrated on 30th September 2017. There are a total of five Navratris in an year: Chaitra Navratri, Gupta Navratri, Sharad Navratri, Paush Navratri, and Magha Navratri. Out of which only Chaitra Navratri and Sharad Navratri are celebrated widely across the subcontinent. Sharad Navratri is said to be the most significant Navratri of all Navratris and is celebrated in the month of Ashwin, and is also called Maha Navaratri (the Great Navratri) amongst devotees.
Sharad Navratri falls in the Lunar month Ashwin during Sharad Ritu, which gives it the name Sharad Navratri. The Hindu festival Navratri is dedicated to Goddess Durga and her nine avatars also referred to as the 'Nav Durga'. On each of the nine days of Navratri, devotees worship a form of Durga or Shakti with special offerings, and traditional rituals to seek the divine goddess' blessings. Sharad Navratri usually falls in the month of September or October.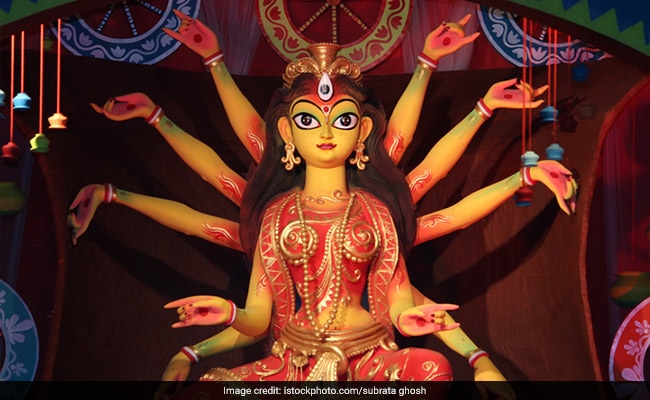 The nine nights of festivities are dedicated to the nine forms of Durga - Shailputri, Brahmacharini, Chandraghanta, Kushmanda, Skandmata, Katyayani, Kaalratri, Mahagauri and Siddhidatri.
For the western part of India, especially Gujarat, Maharashtra and Punjab, Navratri holds immense significance. Devotees wake up early in the morning, adorn themselves in fresh new clothes and sit for puja. They offer plenty of fruits and delicacies to the deity, which is later distributed as prasad among the devotees. Some Hindus also observe the ritualistic Navratri fasts, during which they refrain from consuming any cereals, non-vegetarian food, alcohol and cigarette. Singhara, buckwheat,(Kuttu) atta pooris, snacks and desert are very popular around this time. Several popular vrat recipes take center- stage during Navratri celebrations.
Special fast meal laden with milk and fruits which are also permissible during the Navratri fasting. On the eighth and ninth day there is also a tradition of celebrating Kanjak or Kanya Pooja, wherein devotees offer nine little girls (who are worshipped as the avatars of Navdurga) some delicious poori, channa and halwa prasad. The festivities spills over to the evenings too, where devotees dress in vibrant clothes and perform garba (a dance form) in the pandals. Some Gujarati and Maharashtrian women also adorn themselves with nine different colours, which are allocated to each day of Navratri. The colour is ruled by one the planets or Navgrahas and accordingly they are assigned to each day.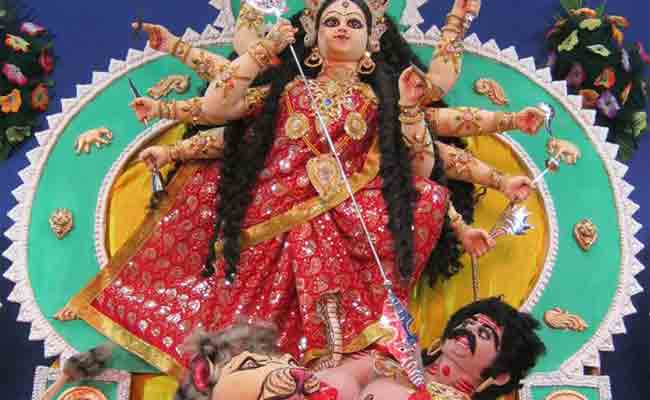 In the eastern end of the country, the revelries are no less. Whole of Bengal and parts of Northeast celebrate Durga Puja with much fervour and enthusiasm. Durga Puja festival marks the battle of Goddess Durga with the powerful buffalo demon Mahishasura. Durga Puja holds immense significance for Bengalis, preparation of which begins months in advance. From setting up pandals, preparing for various cultural activities like poetry recitation, singing, dancing, painting competitions to the simple joy of purchasing new clothes, Durga Pooja celebrations are no less than a carnival in itself. The celebrations are made all the more special with the true culinary feast that accompanies the festival.
The Navratri culminates with Dussehra or Vijay Dashmi, which falls on 30th September this year.
Here is a detailed calendar of Durga Puja date and day this year.
Date
Day and Colour of the day
Pooja
21st September 2017 (Thursday)
Pratipada, Yellow
Ghatasthapana
Chandra Darshan
Shailputri Puja
22nd September 2017 (Friday)
Dwitiya, Green
Brahmacharini Puja
23rd September 2017 (Saturday)
Tritiya, Grey
Sindoor Tritiya
Chandraghanta Puja
Varad Vinayaka Chauth
24th September 2017 (Sunday)
Chaturthi, Orange
Kushmanda Puja
Upang Lalita Vrat
25th September 2017 (Monday)
Panchami, White
Skandamata Puja
26th September 2017 (Tuesday)
Shashthi, Red
Katyayani Puja
27th September 2017 (Wednesday)
Saptami, Royal Blue
Saraswati Awahan
Kalaratri Puja
28th September 2017 (Thursday)
Ashtami, Pink
Saraswati Puja
Durga Ashtami
Mahagauri Puja
Sandhi Puja
29th September 2017 (Friday)
Navami, Purple
Maha Navami
Ayudha Puja, Navami Homa
Wish you all a very Happy Sharad Navratri 2017.