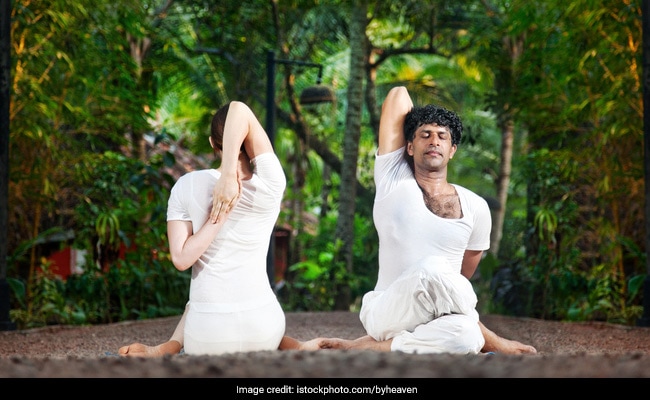 Yoga is an ancient Hindu practice including breath control, simple meditation, and the adoption of specific bodily postures, which promotes for overall health and well-being. Yoga is fast earning recognition across globe, if done right, yoga can heal, improve strength, flexibility and endurance but wrong yoga poses can also wreck havoc on your health.
Minakshi Fullara, Chief Consultant, Physiotherapy, Aakash Healthcare, said that overdoing yoga or doing it in the wrong manner can lead to acute injuries, chronic pain, overuse strain and a hamstring pull.
Certain asanas of yoga like Paschimottanasana involves direct bending of the spine in seated or long-standing position without bending of knees. If performed in an incorrect manner it puts a direct load on spine giving it "C" shape and creating tension on ligaments and joint stability leading to severe disc prolapses and hip joint disorders.
Other most common injuries are wrist injuries, when a certain posture of yoga demand support from the wrist, many due to lack of proper knowledge end up injuring their wrists.
To avoid these injuries, Minakshi suggests, getting yourself assessed thoroughly by a physical therapist for your flexibility, core strength, joint mobility properly before performing; respond to your body, if it signals to pain or stress.
Yoga expert Deepak Jha has also pointed out a few health problems which can occur if the poses are performed incorrectly. Backaches and slip discs are a common cause of injury following yoga poses like Bharadvajasana, Bitilasana, Marjaryasana incorrectly. Yoga poses like Ardha Chandrasana, Malasana and Supta Virasana put pressure on your ankles, and cause ankle sprain if not followed properly. Performing yoga asanas like Setu Bandha Sarvangasana, Matsyasana, Eka Pada Rajakapotasana II and Kapotasana can also cause neck sprain and stiff neck when not done correctly.
Therefore while Yoga can do wonders for your fitness and health, it must also be ensured that it is done properly for maximum benefits. Speaking of maximum benefits, according to renowned Yoga experts, fruits are a rejuvenating and healthy option for your post yoga session. According to Meher Rajput, Nitritionist at FITPASS, Here are the fruits you should eat:
1. Coconut Water
Coconut water is loaded with natural electrolytes such as sodium, potassium and other micro nutrients. When an individual sweats, electrolytes are required to replenish it in the body. Coconut water is an excellent choice to rehydrate yourself after a yoga workout.
2. Water Melons
Water Melons are primarily made up of water and help keep dehydration and hunger at bay. They also contain quickly digesting carbs which are a good source of energy to replenish the lost reserves after a good round of yoga.
3. Bananas
Bananas are a natural source of energy and a good source of digestible carbohydrateswhich get easily converted into energy to re-energise you after a workout.
4. Bael Sherbet
Bael is rich in antioxidants, Vitamin C, Vitamin B, Fibre, Protein and other micronutrients. This makes it a perfect fruit to have after your yoga workout. For people who are diabetic, this is a great fruit to have as it stimulates the pancreas to secrete insulin, which leads to lowering of elevated blood sugar levels.
5. Beetroot
Known to be a rich source of iron, beetroot can help elevate the decreased haemoglobin level. Eating beetroot after yoga session can help effectively ward off fatigue and lethargy.
Load up on these foods to reap most benefits.
(With inputs from IANS)