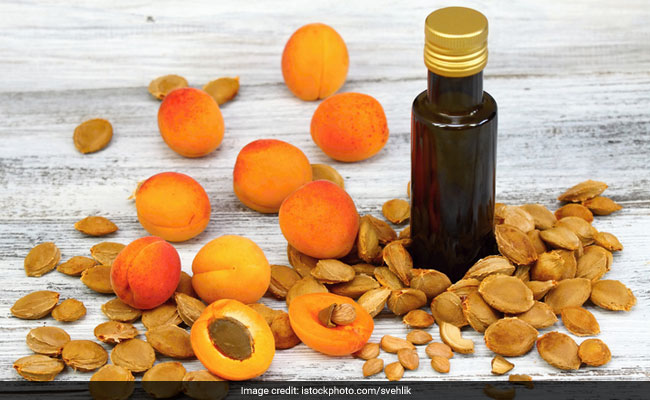 Highlights
Apricot oil is great for soothing dry skin
Apricot oil can also be used in a scrub to give you soft and glowing skin
Apricot oil has wonderful anti-aging properties
Apricot oil is extracted from the kernels of the fruit and is an all-purpose oil which means that it can be used for cooking as well as for skin nourishment when applied topically. It has a very fine texture that allows it to penetrate easily into the skin and heal it. It is also often used along with other essential oils such as lavender, rose or chamomile in aromatherapy. It is light and does not leave any residue on the skin. Apricot oil is rich in Vitamin A and Vitamin E - both essential nutrients for your skin. Here are five ways in which you can use apricot oil to get rid of all your beauty problems during winters.
1. Apricot oil is great for soothing dry skin. It deeply nourishes damaged, rough or chapped skin. Just apply it on the affected area and let it be. It acts as a great natural moisturizer. It is also a great night oil that can applied on you face and hands and left overnight to moisturize your skin and open clogged pores.
2. Apricot oil can also be used in a scrub to give you soft and glowing skin in minutes. Mix it with some olive oil or almond oil and some sugar to make a scrub that you can gently all over your face and neck, Let it sit for 5 to 10 minutes and then wash off with lukewarm water.
3. Apricot oil has wonderful anti-aging properties. It provides nutrition and support to your skin so that the signs of aging are reduced.
4. During the winter season, your nails may turn dry and brittle due to loss of moisture. Apply some apricot oil on them and rub gently on the cuticles for smooth and shiny nails. You can also apply some on your hands before bathing to lock in the moisture and have soft hands.
5. If the cold weather is making your hair dry and dull, massage apricot oil along with coconut oil or olive oil to restore the softness and shine. Apricot oil also helps in treating a dry and flaky scalp.
Besides these beauty uses, apricot oil is also known to be a good source of monounsaturated fats that may help lower your bad cholesterol and promote heart health. You can use it as a salad oil to add a wonderful flavour and sweet aroma.