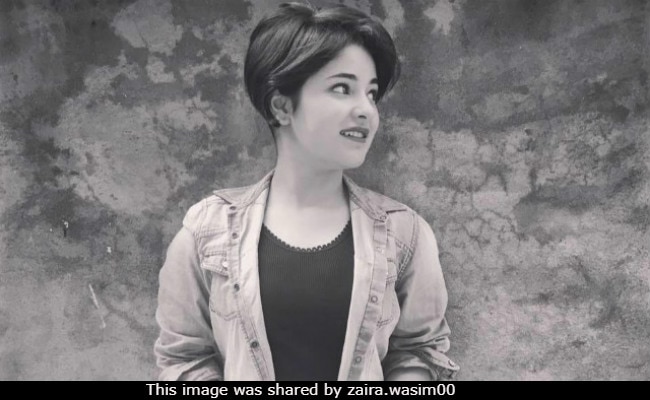 Highlights
Zaira Wasim opened up about depression in a lengthy post
"I would just lie to myself," said Zaira Wasim
"And call the doctors crazy," she added
New Delhi:
Dangal actress Zaira Wasim
opened up about suffering from depression in a lengthy note, which she posted on all her social media accounts on Friday. In her note, the 17-year-old actress writes that after repeatedly being told she was "too young to be depressed" and that depression is "just a phase," she has finally mustered the courage to admit that she was diagnosed with severe anxiety and depression four-and-a-half years ago "without being ashamed, embarrassed and having the fear of being judged for it." Writing about her battle with depression, Zaira said suicidal thoughts, starving, daily dosage of medicines and restlessnes is what defined her days. "Perhaps it could've been *JUST A PHASE* but this awful phase has put me in situations I never wished or chose to be in," she wrote on Facebook.
"Popping 5 antidepressants every day, anxiety attacks, being rushed to the hospital in the middle of the night, feeling empty, restless, anxious, hallucinations, having sore limbs from sleeping too much to not being able to sleep for weeks, from overeating to starving myself, unexplained fatigue, body ache, self-loathing, nervous breakdowns, suicidal thoughts were all parts of this PHASE," Zaira added in her note.
The
Secret Superstar
actress mentioned that she was made to believe that "there's no such thing as depression" and that it can only be diagnosed in those above the age of 25. "I was always pushed into the bubble of denial, despite knowing the reality and I would always lie to myself and others and just shake my head in yes when they would say - It's nothing, you're too young to be depressed, I would just lie to myself and call the doctors crazy," she wrote.
Zaira ended her post with an announcement of sorts, in which she wrote about taking a break from social media. "I just need a complete break from everything, my social life, my work, school and especially social media. I'm really looking forward to the holy month of Ramadhan as it may be the perfect opportunity to figure things out. Please remember me in your prayers," she said. Zaira also thanked her family and near and dear ones for "being patient" with her.
Read her full post here:
Perhaps it's safe to say that Zaira Wasim's tryst with social media has not been a rather pleasant one. At the beginning of last year, the actress was trolled for meeting Jammu and Kashmir chief minister Mehbooba Mufti, after which
she posted an apology and deleted it
. In December, the teen actress was
trolled yet again after she alleged molestation
by a middle-aged man on a flight. Instagram posts made previously on Zaira Wasim's account appears to have been deleted and the actress was also recently spotted changing her Facebook profile photo to one that reads: 'Hope.'
Zaira Wasim was last seen in
Secret Superstar
- her second film with Aamir Khan. She made her Bollywood debut with 2016's
Dangal
, also starring Aamir.