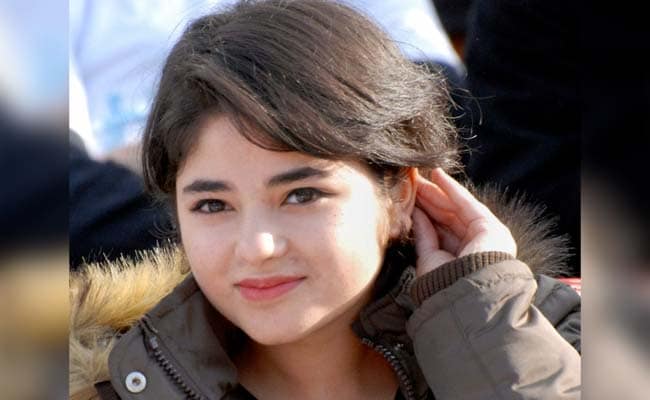 Highlights
Ms Wasim met Ms Mufti and discussed her experiences while filming Dangal
She apologised on a Facebook post after backlash on social media
A 16-year-old shouldn't be forced to apologise, tweeted Omar Abdullah
New Delhi:
Former Jammu and Kashmir Chief Minister Omar Abdullah has sharply criticised the
attack on social media on 16-year-old Zaira Wasim
, who played the role of young Geeta Phogat in the blockbuster Dangal, after she met Chief Minister Mehbooba Mufti.
In a tweet, Mr Abdullah said, "A 16 year old shouldn't be forced to apologise & that too allegedly for meeting @MehboobaMufti. What are we coming to!!!!!"
Poet and scriptwriter Javed Akhtar too, came out in her support, tweeting:
Those who shout AZADI from the roof tops don't give an iota of AZADI to others .Poor Zaira Waseem had to apologies for her success Shame !!

— Javed Akhtar (@Javedakhtarjadu) January 16, 2017
The teen actor, who is from Jammu and Kashmir, had met Ms Mufti over the weekend with her parents, discussing her education, career and experiences while filming Dangal. But after a backlash on social media, she apologised in a Facebook post which she later removed.
The post read: "I hope people still remember that I'm a just a 16 year old girl and I hope you treat me accordingly. I'm sorry for what I did but it was not a deliberate decision and I really hope people can forgive me."
The post received comments like "This profile is fake" and "Why are you meeting culprits instead of victims".
In a second post on Facebook, Ms Wasim referred to the first, saying she had "no idea why this has become such a big issue". "I just wanted to make sure that I did not hurt anyone's feelings and all of a sudden it has been turned into national news," she added.
Later, she removed the second post from Facebook too. But it drew huge support on Twitter.
@zairawasim you are a great girl #Zaira, further you will become a great Actress, अल्ल्लाह mehnat karne waalon ke saath hamesha rehta hai.

— Faiyaz Ahmad (@faiyazahmad_) January 16, 2017
@zairawasim Time for real DANGAL dear girl...giving up will make you side with SINNERS Of HUMANITY

— Meenu D` Gaddi (@meenudgaddi) January 16, 2017
Dear @zairawasim I Don't Think U Need Any Confession To Anybody, You Have All The Rights To Live Your Life The way You Want.....

— Rajkamal Khatik (@Raj_Khatri7) January 16, 2017
Ms Wasim, who has already been cast in Aamir Khan's next movie, "Superstar" had played Geeta, the elder daughter of Aamir Khan's character, Mahavir Singh Phogat in Dangal.
Dangal is the true story of how Mr Phogat, a former wrestler, trained his daughters Geeta and Babita, who went on to bring medals for India.