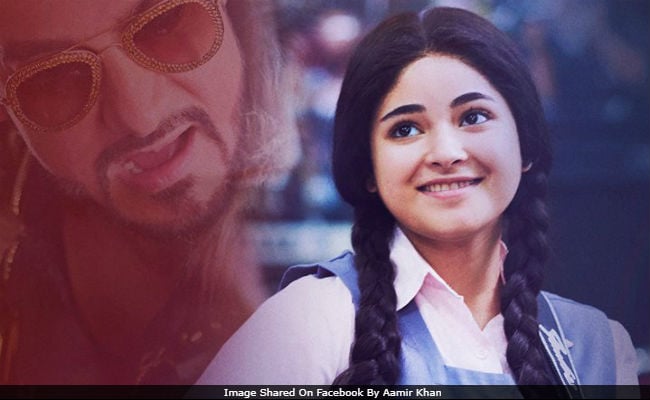 Highlights
Zaira Wasim features at number 10
Vidya Balan is ranked one
Kangana Ranaut's name is also mentioned
New Delhi:
In our yearend specials, I have so far discussed
the best Hindi films of the year
, the
worst Hindi films of the year
, and
the biggest star of the year
. Now we come to the ten actresses who really tied 2017 together. These are ten drastically different ladies, each giving us a special performance and doing things very much their own way.
Here are the best Hindi film actresses of 2017:
10. Zaira Wasim, Secret Superstar
For what feels like the first time in mainstream Hindi cinema, a young girl who played the guitar on screen actually looked like she was playing the guitar. That's not the only impressive thing about this performance, of course, as Wasim convincingly fleshed out the surprisingly layered character of a little girl who loathed her father and, in turn, kept lashing out at anyone showing affection toward her.
9. Seema Pahwa, Shubh Mangal Saavdhan
Seema Pahwa is a superlative actress, a gifted and highly natural performer who - as a mother concerned about the marriage of her daughter - brought immense believability to two films this year,
Bareilly Ki Barfi
as well as
Shubh Mangal Savdhaan
. Deciding to pick each actress only once, I choose the second film because of an unforgettable scene where Pahwa, completely carried away by talk of romance, waxes nostalgic and starts reciting erotic poetry to her daughter.
8. Meher Vij, Secret Superstar
The role of the hapless, helpless wife is a Hindi film cliche, but Vij displays a tremendous amount of heart as a woman who can't even begin to comprehend the idea of leaving her husband, or breaking up her family. She is also a starry-eyed dreamer, one who pleads that her child hold in his bowel movements so she can finish watching a filmi award show on TV. At the end of the film, when Vij takes a line of officials spoken to her by a guard and turns it into a declaration of intent, she proves herself to be the truly secret star.
7. Ratna Pathak Shah, Lipstick Under My Burkha
Is there anything Shah cannot do? No.
In this film, she throws off a masturbation sequence with a certain
thehraav
, with beauty in her longing. There is a startling level of truth in all of Shah's work, and the infallible actress brings credibility to this film. In a role Shah could sink her teeth into, she plays a matriarch who discovers lust and discovers also that she loves how it makes her feel. Super.
6. Navnindra Behl, Mukti Bhawan
In one of the most understated and sensitive performances of the year, Behl shines in
Mukti Bhawan
as an old widow who continually changes her name (for paperwork purposes) to keep staying at the titular hotel, where she checked in ages ago in order to die in peace. In this self-selected limbo, she meets an old man - played by her real life husband, Lalit Behl - and, briefly and dazzlingly, allows herself a true and marvellous romance.
5. Kriti Sanon, Bareilly Ki Barfi
Love triangles are rarely easy, and they are particularly hard on an actress when flanked by actors like Rajkummar Rao and Ayushmann Khurana. Sanon is delightfully breezy as the wild and desirable tomboy, and while not as fluent in the Bareilly tongue as her co-actors, she brings an ease and softness to the part. There are small details - a roll of the eyes at her father as she asks for a cigarette; a swift shrug of the shoulders to immediate demonstrate her breakdancing prowess; a sheepish bite of the upper lip when told her front teeth are a touch too big - that demonstrate sweetness befitting the Barfi of the title. It is a lovely performance, but this character deserves better than generic applause. Let's call it "lovela."
4. Swara Bhaskar,Anarkali Of Aarah
This is a difficult film that demands a truly fiery heroine, and Bhaskar delivers with both force and grace as she plays a bawdy dancer who emphasises the need for consent. This is a film that belongs entirely to the actress as she mouths the hardest and most necessarily brutal of lines, drawing blood with her tongue and her spirit. All that and she dances up a storm - but only when she wants. This is an awesome performance, and among the year's bravest.
3. Tilottama Shome, A Death In The Gunj
Keeping it together is easier said than done. This moody and atmospheric film about a family vacation in the 70s leaned heavily on type, and while actors around her were cast in more extreme and exaggerated roles, it was Shome who played the reasonable and credible elder sister, one who has a ear for gossip but would never be impolite in front of even an unwanted dinner guest. Bonnie, with a piercing giggle and expressive eyes and exacting kitchen requirements, is a character we have met or are related to, and Shome plays her without a single false note.
Shome is also excellent in
Hindi Medium
as a shark who guides young parents toward school admissions, her enjoyably over the top performance setting the tone for the film.
2. Kangana Ranaut, Rangoon
The introductory song calls her '
jagraati
Julia,' Julia worth staying awake nights for, and this is no exaggeration. As a stuntwoman heroine in pre-Independent India, Ranaut is a stunning, operatically high-strung character in a film packed with melodrama. She is a woman leashed by her wealthy lover, as well as a girl aroused by a muddy soldier. She is intelligent and untameable though she pretends to be none of those things, and there is an electricity to her performance - not least because she cracks her whip, embraces bare-backed stunts, and carries off an old-school masque with defiant grace. Call the actress or her character what you will, but Julia is certainly a true original.
1. Vidya Balan, Tumhari Sulu
What can you say about The Undefeatable?
Sulochana Dubey is a force of nature and a whirlwind of optimism. She walks out of a radio station having quit a job, forced to reluctantly admit that this is not her life. She is crushed but, while walking out, she strikes up a conversation with a whiny receptionist based on what she has overheard about the catering. Suddenly, there's Sulu fixing rates and setting up an impromptu business plan. Life might frequently get Sulu down but she has an incredible spirit, ready to spring up in an instant. Nothing is out of bounds.
Balan is magnificent as Sulu, shy in front of the young English speaking neighbours, but unafraid to experiment with a sexy voice on the phone to distract a local shopkeeper. The ebullience in her eyes is infectious, but Balan makes sure her Sulu isn't unrealistic in her sprightliness: she is hesitant, worried, doubting, but then overcompensatingly eager. She creates a character fighting for every scrap of her own relevance and - visibly - someone who is relishing the fight. The actress also conjures up a refreshingly commonsensical air, making Sulu someone who always adds up, always makes sense - at least to herself.
Sulu thinks up schemes to get better, talks her way into the most unlikely of jobs, and imperiously gets her handsome husband to massage her feet. Our movies - and our middle class - haven't seen a finer champion all year.
(Raja Sen is a film critic, columnist and screenwriter. His first book, The Best Baker In The World, is a book for children that happens to be an adaptation of The Godfather, and is in stores now.)
Disclaimer: The opinions expressed within this article are the personal opinions of the author. The facts and opinions appearing in the article do not reflect the views of NDTV and NDTV does not assume any responsibility or liability for the same.