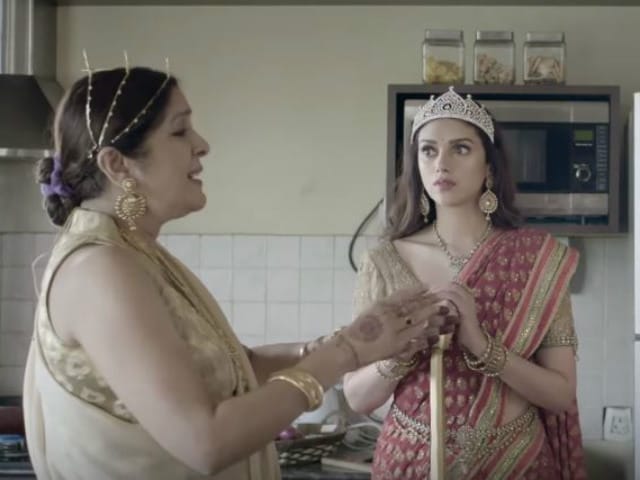 Highlights
Aditi Rao Hydari is just one of an impressive ensemble cast
It also stars Arunoday Singh, Amol Parashar, Akshay Oberoi
Mama's Boys is also a swan song for Razak Khan, who died in June
New Delhi:
An absolutely hilarious spin on the
Mahabharata
is trending and for good reason.
Delhi Belly
writer Akshat Verma directs this short film that transplants the complicated marital status of the Pandavas and Draupadi to 2016, with shattering effects.
Here, Draupadi is allowed as little agency and free will in being apportioned in fifths to each brother as she was in mythology. But this Draupadi is no shrinking violet.
Played seductively by Aditi Rai Hydari
, the choices she makes serve nobody but herself and she employs every feminine wile available to her to turn the situation she finds herself in to her own advantage.
Aditi is just one of an impressive ensemble cast. Neena Gupta stars as Kunti - here, the stubborn Punjabi mother of five
laadla beta
s, dishing out
tinda masala
and happily oblivious that her two youngest sons are gay and not interested in the twin prospective brides she has lined up.
Arunoday Singh appears as the buff but dim Bhim, who pumps iron with his girlfriend Hidimba and is easy pickings for the sultry Draupadi.
Amol Parashar is cast as the hapless Arjun, bringing home his hard-won bride to mom, who won't relent after ordering him to 'share' because she never goes back on her word - even though just the day before she said she was going to cook
rajma
but didn't.
Akshay Oberoi is a dissolute perma-sunglassed Yudhishthir, borrowing from his brother to keep gambling. Nakul and Sahdev, gay designers and on Arjun's side until mom demands they meet prospective brides of their own, are played by Vivaan Shah and Jim Sarbh.
Mama's Boys
is also a swan song for Razak Khan, who died in June, and makes a brief appearance here as Shakuni Mama.
As Aditi Rao Hydari puts it
in a tweet,
Mama's Boys
turns things "upside down or right side up."
Watch. It will be 16 minutes well-spent.
Disclaimer: (Viewer discretion advised. Some content in this video may be unsuitable for children.)