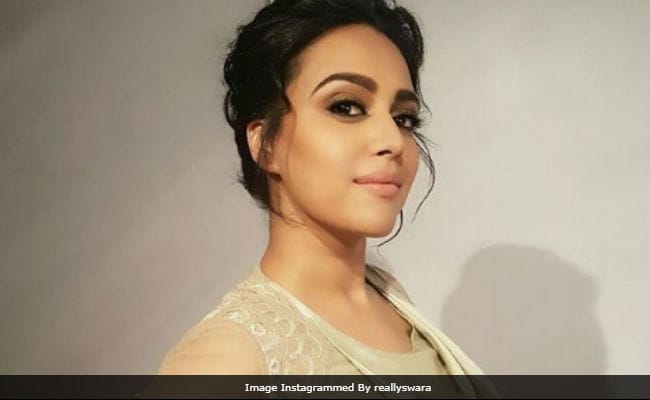 Highlights
Swara's piece calls Mr Bhansali out for glorifying jauhar and sati
Sonam Kapoor retweeted an appreciative comment on the open letter
Twitter is flooded with similarly dismissive comments
New Delhi:
Actress
Swara Bhasker
's open letter on how she felt "reduced to a vagina" while watching Sanjay Leela Bhansali's "
Padmaavat
" has, unsurprisingly, gone viral and, also unsurprisingly, has made some people on social media indignant, outraged and angry. Swara's piece, written for
The Wire
, calls Mr Bhansali out for glorifying acts -
jauhar
and sati - that deprive women of life and liberty. "Women have the right to live despite being raped, sir. Women have the right to live, despite the death of their husbands, male 'protectors', 'owners', 'controllers of their sexuality'.. whatever you understand the men to be," Swara writes in her letter.
Later in her
piece
, she writes: "It would be nice if the vaginas are respected; but in the unfortunate case that they are not, a woman can continue to live. She need not be punished with death, because another person disrespected her vagina without her consent." "
Padmaavat
," which released last week after months of being dogged by controversy, is based on the legend of Rani Padmini who supposedly committed jauhar to escape the invading emperor Alauddin Khilji. Swara's letter includes a hat tip to the difficult circumstances that accompanied the release of "
Padmaavat
" and noted that she had spoken up for the film while it was fighting for survival.
While
Swara's Veere Di Wedding co-star Sonam Kapoor
retweeted an appreciative comment on the open letter, many online have been less welcoming. This tweet from actress-singer Suchitra Krishnamoorthi referencing Swara's acclaimed performance in 2017 film
Anaarkali Of Aarah
is pretty much sums up the general reaction: "Funny that an actress who can play an erotic dancer/prostitute with such elan should feel like a vagina after watching a story of a pious queen. What standards are these... tch tch."
Much of what Swara said clearly escaped some readers. The one takeaway, as Swara noted in her response to Ms Krishnamoorthi's tweet, was that she used the word 'vagina':
Funny that people cannot get over the fact that a woman said Vagina! Funny that in a 2440 word article making fairly comprehensible arguments they only remember the word Vagina!!! So... Vagina vagina vagina vagina vagina vagina...............vagina vagina VAGINA!!!!! https://t.co/pVh7rskZHL

— Swara Bhasker (@ReallySwara) January 28, 2018
Suchitra Krishnamoorthi wasn't the only one to fixate on Swara's use of a word that clearly makes a lot of people uncomfortable:
I've realised that I don't qualify as a feminist since I can't say vagina 5 times in a sentence. No wait, not that I can't. I don't want to.

— Sonal Kalra (@sonalkalra) January 28, 2018
Totally your choice Sonal.. saying or not saying the word vagina has nothing to do with being a feminist.. but in a 2440 word article about a film- that ur only recall is the use of the word vagina.. may have something to do with.. i wonder what? :) :) :) https://t.co/vukMMxds40

— Swara Bhasker (@ReallySwara) January 28, 2018
To someone who accused her of having "belittled the entire women community," Swara responded:
Priyanka read the article again.. what part of it 'belittles' women. And no there is no jealousy.. tell me every time you think a thought, or have an opinion; is it because you are jealous???? That's an unfortunate and emotionally draining existence. My sympathies https://t.co/TQofAnAdqM

— Swara Bhasker (@ReallySwara) January 29, 2018
Twitter is flooded with similarly dismissive comments:
Someone tell Swara Bhaskar that Khilji reduced Padmavati and other Rajput women to mere Vaginas and not SLB..

Padmavati is the tale of how Rajput women refused to be mere vagina..

— Ekita (@LostByWaves) January 28, 2018
Swara Bhaskar writes open letter to Sanjay Leela Bhansali, says after watching his Magnum opus she felt reduced to a Vagina only

Well that happens when feminists start thinking from vagina than brains. Every film should now be made with feminist principles so not to offend them.

— Deepika Bhardwaj (@DeepikaBhardwaj) January 28, 2018
A tweet from September about trolling trolls has been pinned on Swara Bhasker's Twitter timeline, so it doesn't look like she's backing down anytime soon:
Trolling the trolls!!!!

— Swara Bhasker (@ReallySwara) September 10, 2017
The deeply polarising "
Padmaavat
" stars Deepika Padukone as Rani Padmavati with Ranveer Singh playing the villainous Alauddin Khilji and Shahid Kapoor as the Rani's king, Ratan Singh.