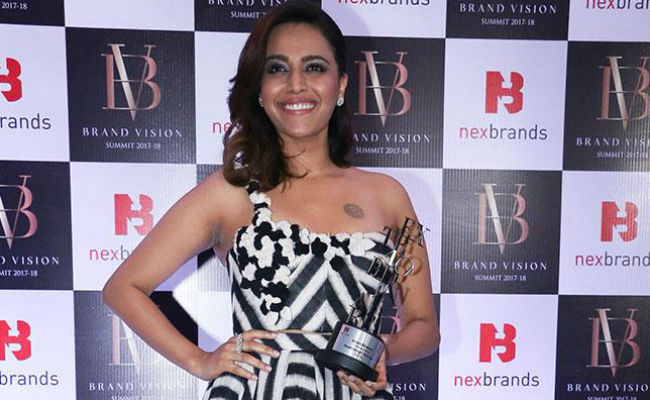 Highlights
Swara's op-ed went insanely viral
"Didn't expect so much chaos," said Swara
"Probably, she (Swara) missed the disclaimer," said Deepika
New Delhi:
Actress Swara Bhasker sent social media scurrying for cover recently after writing an explosive open letter addressed "
Padmaavat
" director Sanjay Leela Bhansali, telling him she "felt reduced to a vagina" after watching his film. Published in
The Wire
, Swara's op-ed went insanely viral - and not just for the case she made against the controversial film. Her intent was to argue against Mr Bhansali's depiction -
glorification is a more appropriate word here - of jauhar and sati in his period piece
, based on a piece of medieval Indian history that some historians say should only be considered legend.
Swara quickly found herself bombarded with critical tweets online - and while many disagreed with the case she presented, as many (if not more) focused on one out of the 2440 words she used (albeit repeatedly).
In 2018, it seems 'vagina' is still taboo, both as a word and as a body part. Tweets revealed several readers of Swara's letter who were brought up short by her use of the word, including one that complained about not qualifying as a feminist because of inability to use 'vagina' five times in a sentence. A day after the letter was published and went viral, Swara Bhasker tweeted:
Funny that people cannot get over the fact that a woman said Vagina! Funny that in a 2440 word article making fairly comprehensible arguments they only remember the word Vagina!!! So... Vagina vagina vagina vagina vagina vagina...............vagina vagina VAGINA!!!!! https://t.co/pVh7rskZHL

— Swara Bhasker (@ReallySwara) January 28, 2018
She later told news agency ANI, "I put forward a few legitimate questions. I didn't expect so much chaos just because I used a word which starts with 'V'".
Swara's use of the word rattled Twitter in more ways than one. Filmmaker Vivek Agnihotri attempted to mansplain to her how 'Real Vaginas' - those belonging to survivors of sexual assault - feel, suggesting that unviolated vaginas aren't 'real' somehow. Swara and supporters reacted with anger and shock.
We have interviewed many 'ex-naxal' women in Bastar. Each has gut-wrenching stories to tell, full of abuse, rape and misogyny If they marry, they aren't allowed to have children. I think fake feminist @ReallySwara must make a trip to understand how the Real Vagina feels like.

— Vivek Agnihotri (@vivekagnihotri) January 30, 2018
I'm sorry did u just suggest that i go get myself raped?????????? Like seriously? You typed out this tweet Vivek... ?????
I'd say pretty low and sick even by your own abysmal standards of conduct & civility. https://t.co/d1LCCE9B5I

— Swara Bhasker (@ReallySwara) January 30, 2018
All this vagina talk has distracted from the arguments Swara Bhasker set out against the problem with "
Padmaavat
," a story of a Rajput queen who committed jauhar or self-immolation to escape an invading emperor. "Women have the right to live, despite being raped... despite the deaths of their husband," she wrote.
This crucial excerpt from Swara's letter states her case: "I understand that
Jauhar
and Sati are a part of our social history. I understand that they are sensational, shocking dramatic occurrences that lend themselves to splendid, stark and stunning visual representation... but then so were the lynchings of blacks by murderous white mobs in the 19th century in the US - sensational, shocking dramatic social occurrences. Does that mean one should make a film about it with no perspective on racism? Or, without a comment on racial hatred? Worse, should one make a film glorifying lynchings as a sign of some warped notion of hot-bloodedness, purity, bravery - I don't know, I have no idea how possibly one could glorify such a heinous hate crime."
Sanjay Leela Bhansali, the director to whom the letter was addressed, defended the
jauhar
scene in an interview to
mid-day
, saying, "This film is based on a story in which the character performs jauhar. The character doing so was convinced that it was an act of war. I feel it's an empowering thought. She didn't allow the enemy to win. It was a victory of dignity and honour."
"
Padmaavat
" star Deepika Padukone, who plays the central character, told
India Today
, ""Probably, she (Swara) missed the disclaimer in the beginning. This film was not just about the
jauhar
. It is a celebration of woman power and dignity." Her co-star Shahid Kapoor, who plays the queen's husband in the film, told news agency IANS that he hadn't read Swara's letter but that it "feels odd."
"
Padmaavat
" released on January 25 to middling reviews but while the critics were unimpressed, audiences flocked to theatres. The film is past the Rs 150 crore mark now - and very much counting.