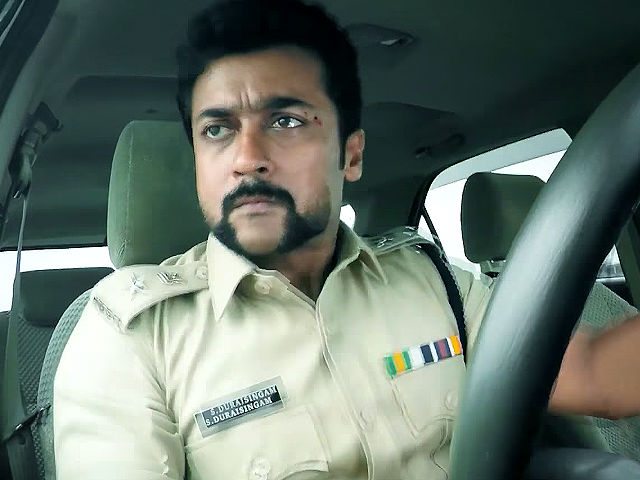 Highlights
Suriya plays a righteous and fearless cop in Si3
Suriya says that Singam's larger-than-life punch lines suit the character
The Hari-directed film also stars Anushka Shetty and Shruti Haasan
New Delhi:
Superstar Suriya is back to fight crime and criminals in
Singam 3
which will hit the screens today. The actor plays a righteous and fearless cop in
Si3
, which was twice rescheduled and will finally release on February 9. Fans are excited, as Suriya returns with full grandeur as DCP Durai Singam to bring the criminals to justice. In an interview with the
First Post
, Suriya opened about his role in
Si3
and he said that
Durai Singam grows with each film
. "The first
Singam
was a fine balance of family sentiments and the hero's arrival into the big city of Chennai, where he chooses the police uniform as his one and only identity in life. In
Singam 2
, his mission got bigger. He had to nab criminals from across the border. He became an assistant commissioner and his experience got wider," he told
First Post
.
Suriya says the
Singam
films aren't about "suspension of belief." He told
First Post
: "We don't have larger-than-life punch lines just to please egos. It has to suit the character and the situations Durai Singam finds himself in. It
all comes together as an interesting package
. The biggest compliment I've received for playing a police officer is when I was told that my photo as Durai Singam is there in various police training camps, as it serves as an inspiration for youngsters to join the force in large numbers."
Suriya's
Si3
is undoubtedly one of the biggest hits in the making. The
24
star defined what a film with good content means to him. "To me what classifies as good content is anything which we can take home after the film is over - it can be a simple dialogue or a deep emotion or the whole concept as such," he told
First Post
.
Watch the trailer of Si3:
Si3
also stars Anushka Shetty and Shruti Haasan along with Raadhika Sarathkumar, Krish as and Thakur Anoop Singh. The film is directed by Hari.