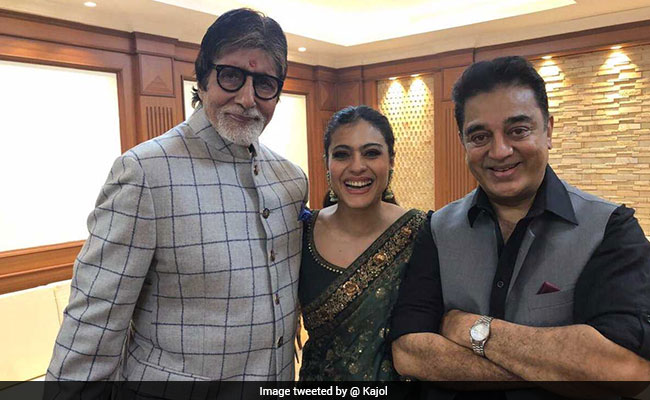 Highlights
Amitabh Bachchan, Kajol and others were present at KIFF
Shah Rukh Khan spoke eight sentences in Bengali at the festival
KIFF will pay homage to veterans like Om Puri, Tom Alter
Kolkata:
In Kolkata, stars descended on Mamata Banerjee's stage for the 23rd Kolkata International Film Festival - with a whiff of politics too - as Kamal Haasan rose to a standing ovation besides
Amitabh Bachchan, Shah Rukh Khan, Mahesh Bhatt and Kajol
. 144 films from 65 countries will be screened over the next week at 12 different venues. For Kolkata's film lovers, Christmas has come early. The chief minister will miss the movies. She is off to London tonight. "The whole world has come to Bengal today," Ms Banerjee said. "We are very proud. But, I am going to London tonight to participate in Sister Nivedita's 150th birth anniversary celebrations at her home there. English Heritage deferred the programme for me as I was busy with U17 World Cup."
Mr Amitabh Bachchan asked Mamata Banerjee not to invite him
to the festival any more. He is the chief guest for the fourth time today and said he was running out of ideas for his inaugural speech. However, he spoke movingly today about Bengali cinema's contribution to music in Indian films.
Shah Rukh Khan spoke eight sentences in Bengali to resounding applause and said he would wear a
dhoti
for the next festival. Kamal Haasan, who many thought may slip in a word about his political plans, spoke briefly on films. Mr Mahesh Bhatt made a more political speech, saying freedom of speech must be protected.
The inaugural film today is Iranian director Mostafa Taqizadeh's debut film
Yellow
. It has won several awards this year itself, at Shanghai.
Yellow
is about friends trying to raise money for a liver transplant for one member of the group.
One of the people on stage with Mamata Banerjee today was British director Michael Winterbottom, who will be showcasing six of his films. He is the maker of
The Mighty Heart
, a film on the US journalist Daniel Pearl who was killed in Pakistan.
KIFF is the second oldest film festival in the country. It will also pay homage to veterans like Om Puri, Tom Alter and Ramananda Sengupta who have recently passed away. They include films like the 1959 film
Headmaster
whose cinematographer was Sengupta,
Shatranj Ke Khiladi
, which featured Tom Alter and Om Puri's
Sadgati
.