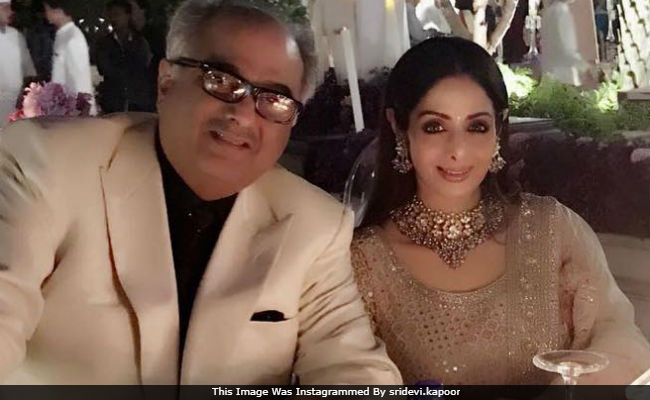 Highlights
"The more we spoke, the more he wept," said Satish Kaushik
He played the role of Calendar, a cook in Mr India
Sridevi's MOM co-star was with Boney Kapoor in Dubai when she died
New Delhi:
Iconic actress Sridevi was cremated with state honours in Mumbai
on Wednesday. Her last rites were attended by several celebrities like Amitabh Bachchan, Shah Rukh Khan, Katrina Kaif and others. Speaking to news agency IANS, her
Mr India
co-star Satish Kaushik said that after the sudden death news of Sridevi broke, he called up her husband Boney Kapoor, who was 'inconsolable.' "When I heard of ma'am's (Sridevi) death, I couldn't believe it. Boney and I have been friends for 30 years. I called him up. He wept inconsolably. The more we spoke, the more he wept. He just couldn't stop crying. I hung up," Satish Kaushik said. He played the role of Calendar, a cook, in
Mr India
(1987), which starred Sridevi opposite brother-in-law Anil Kapoor.
Mr Kaushik also shared memories of the megastar and told IANS, "I don't know of anyone who could transform so much once she had make-up on. And I don't mean just for the camera. She could dress up for a wedding and she'd look like a different person... And now to see her lying there still and unmoving in that casket... it was heartbreaking." Satish Kaushik also added that he was 'stunned by her screen presence after watching
Himmatwala
.
"Javed Akhtar
saab
recommended her very strongly. She was signed for the female lead of
Joshilaay
along with Anil Kapoor, Sunny Deol and Meenakshi Seshadri. Sridevi played a village belle, a circus owner's daughter and her comic timing was impeccable even back then," Satish Kaushik told IANS, who later worked with Sridevi in
Mr India
. He assisted Shekhar Kapur in
Joshilaay
, which was produced by Boney Kapoor.
Sridevi took a break of several years after 1997's
Judaai
to raise her daughters Janhvi and Khushi and made a comeback with the blockbuster
English Vinglish
in 2012. "In her later years, she chose the real-life role of a mother to Janhvi and Khushi. That was her favourite role and the one that she played oblivious to the fact that there was no camera. I've seen what a good mother she was to the two girls. And now to see Janhvi and Khushi looking so lost without her," Satish Kaushik added.
On Tuesday,
Sridevi's MOM co-star Adnan Siddiqui
revealed that he was among the first few people to meet Boney Kapoor at Jumeirah Emirates Tower, the Dubai hotel where she died. "When everything was settled, Boney
saab
called me upstairs. He was there along with a family friend, his wife and a daughter. Boney
saab
was crying like a baby; he was inconsolable. I was with him until 5 am. He was under a lot of stress, so I advised him to rest, and then left," he told mid-day," he told
mid-day
.
Sridevi drowned accidentally on Saturday in her hotel bathroom. She was there attending the wedding of nephew Mohit Marwah.
(With IANS inputs)