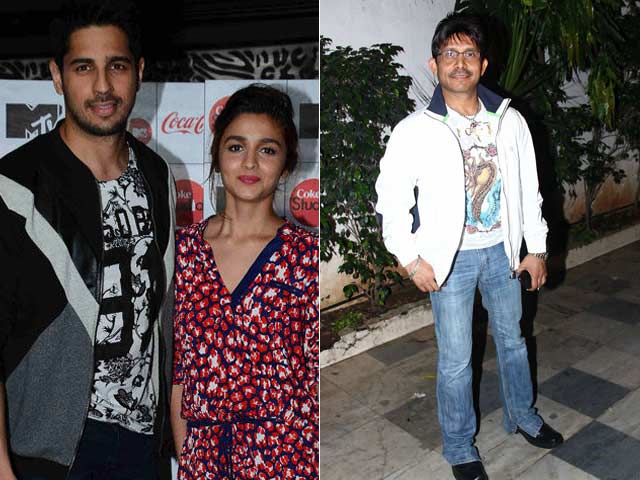 New Delhi:
Actor Sidharth Malhotra has slammed actor-producer Kamal R Khan for an offensive tweet about his colleague Alia Bhatt for a beach advert in which they featured. In his tweet, which has now been deleted, KRK called Alia "
bacchi
."
An incensed Sidharth Malhotra was quick to react and tweeted:
Sir ! We also try very hard to tell u to shut up but u keep tweeting ! @kamaalrkhanhttps://t.co/YRS4drWnVI

— Sidharth Malhotra (@S1dharthM) February 27, 2016
KRK, who has infamously riled several celebrities on social media, was retorted:
Sir Ji @S1dharthM 130Cr ppl of India also try very hard to tell you to stop acting but you keep doing films to harass them.

— KRK (@kamaalrkhan) February 27, 2016
The two continued to trade insults:
I think u need English reading classes sir! ,as u didn't read and understand my previous tweet ! https://t.co/62YyVXuZGu

— Sidharth Malhotra (@S1dharthM) February 27, 2016
HAHAHAHAHA! Ok I will come to learn from you soon because you @S1dharthM are educated from Delhi idea institute.

— KRK (@kamaalrkhan) February 27, 2016
.
KRK, who describes himself as an actor-producer, has often made several Bollywood celebrities the subject of insult filled-tweets. Last year, he was involved in a Twitter rant with Rishi Kapoor. Ranveer Singh allegedly blocked him on Twitter after KRK reviewed the actor's appearance on the controversial AIB Roast in the filthiest of terms. KRK's also been described by actress Sonakshi Sinha as a 'waste of space' and hashtagged a #lowlife by Queen's Lisa Haydon.
Sidharth, 31 and Alia, 22, made their film debut with Karan Johar's
Student of The Year
in 2012. The actors, who are rumoured to be in a relationship also co-star in
Kapoor And Sons
which opens in March this year.