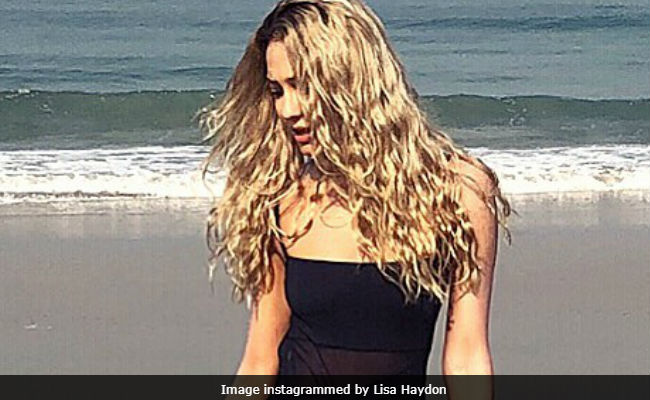 Highlights
Some Instagram users slut-shamed her but more fans defended Lisa
Fans are also impressed with Lisa's fitness level
Lisa Haydon is currently seen on Top Model India
New Delhi:
Lisa Haydon's latest Instagram posts, in which she can be seen cycling on the beach, have divided the Internet. Of course, one section of the Internet became moralistic and slut-shamed Lisa for her choice of outfit - a swimsuit. However, more fans defended the actress saying that it's her choice what she wants to wear. Instagram users, including photographer-filmmaker Atul Kasbekar, were also stunned by Lisa Haydon's fitness level. "It's illegal to look like this six months after delivery, Lisa," Atul commented on Lisa's photo. Lisa Haydon is married to businessman Dino Lalvani and the couple welcomed their first child, son Zack, in May 2017.
Here's another picture Lisa Haydon shared, in which she figured out when to use the 'blonde girl emoticon.'
Lisa Haydon is currently vacationing with her cousins in Goa. The actress
shared glimpses of her fam-jam on Instagram last week
.
Before that Lisa had shared precious moments she spent on the beach with her son Zack. T
hey tried their luck with the Bongo
.
Lisa Haydon currently doubles as the host and judge of reality show
Top Model India
. The actress told news agency IANS that she successfully juggles work and mom duties is by giving her "100 per cent." She said: "When I am at work, I am at work and I rationalise that in my own head because I love my job and I am a working mom. And when I go home, I try to be the best mom I could possibly be and give them all my attention and time and focus. That's the only way I can balance it - give 100 per cent where you are at that moment."
Lisa Haydon was last seen in a cameo in Karan Johar's
Ae Dil Hai Mushkil
. She hasn't announced her next film yet.
(With inputs from IANS)