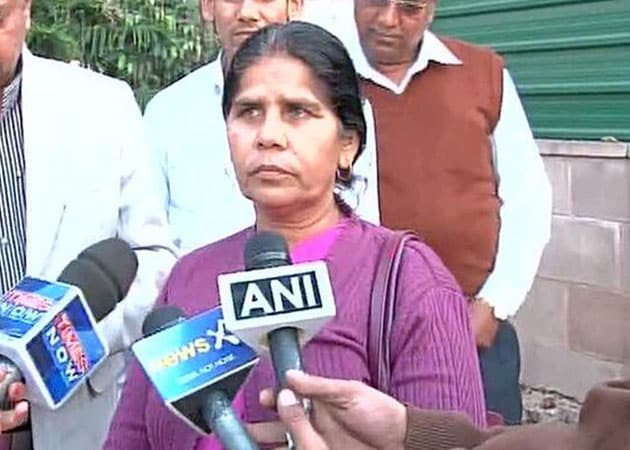 Highlights
Sampat Pal, leader of the pink sari-clad vigilante group Gulabi Gang, said today that she would not settle out of court with the producers of the film Gulaab Gang, the release of which she tried to block.
"The HC decision was in my favour. They have got three days chance to see the movie and analyse the content. The movie is based on my life. We have faith on the court it would give right judgment. If Phoolan Devi's movie was stalled until release, this movie will also be stalled. This is about my respect and integrity," Ms Pal said in a statement.
She also said that it was not correct to make a film by "stealing" from someone else's life. "If I were educated enough, I would have gone to court by myself," she added.
Ms Pal asked the Delhi High Court not to allow the release of Gulaab Gang, starring Madhuri Dixit and Juhi Chawla, alleging that she had not given permission for the film to be made. She also objected to the way her character was portrayed in preview scenes of the film.
On March 5, the court stayed the release of the film till May 8 on the basis of a plea filed by Ms Pal. The film's producers asked the court today to allow Gulaab Gang to be released.
The Delhi High Court has now decided that the film will release tomorrow as scheduled, with a disclaimer that the movie is not based on Ms Pal's life and work.
With agency inputs
New Delhi:
Sampat Pal, leader of the pink sari-clad vigilante group Gulabi Gang, said today that she would not settle out of court with the producers of the film
Gulaab Gang
, the release of which she tried to block.
"The HC decision was in my favour. They have got three days chance to see the movie and analyse the content. The movie is based on my life. We have faith on the court it would give right judgment. If Phoolan Devi's movie was stalled until release, this movie will also be stalled. This is about my respect and integrity," Ms Pal said in a statement.
She also said that it was not correct to make a film by "stealing" from someone else's life. "If I were educated enough, I would have gone to court by myself," she added.
Ms Pal asked the Delhi High Court not to allow the release of Gulaab Gang, starring Madhuri Dixit and Juhi Chawla, alleging that she had not given permission for the film to be made. She also objected to the way her character was portrayed in preview scenes of the film.
On March 5, the court stayed the release of the film till May 8 on the basis of a plea filed by Ms Pal. The film's producers asked the court today to allow
Gulaab Gang
to be released.
The Delhi High Court has now decided that the film will release tomorrow as scheduled, with a disclaimer that the movie is not based on Ms Pal's life and work.
With agency inputs