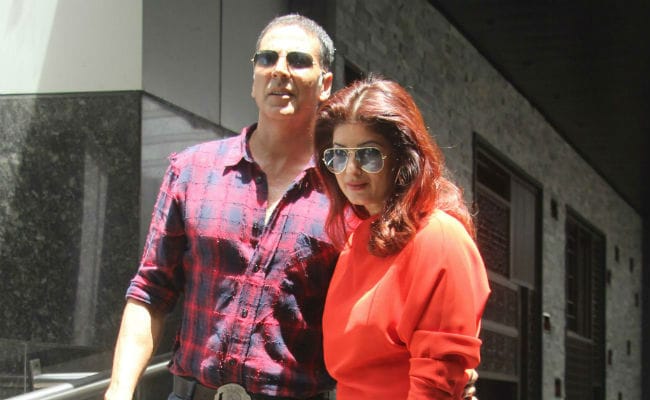 Highlights
Akshay and Twinkle's move to auction his Rustom outfit enraged Twitter
"You're not a soldier to own a uniform," read one comment
Twinkle said she'll "retaliate by taking legal action"
New Delhi:
Akshay Kumar's post - and reported by wife Twinkle Khanna - about auctioning off the Naval officer's uniform worn in 2016 film
Rustom
has snowballed into an ugly exchange of threats on social media between Twinkle and a man believed to be an army officer. Akshay announced last week that his
Rustom
costume would be auctioned for charity and the proceeds would fund animal rescue and welfare. Social media was instantly offended, pointing out to Akshay and Twinkle that the outfit in question was a film costume and not an 'original naval uniform,' which is how the post was worded. Boiling point was reached after a Facebook post slamming Twinkle Khanna - rather than Akshay - ended by saying she would get a 'bloody nose.'
Twinkle has responded with cold fury
, asking how it's okay to threat a woman with violence for selling off 'a piece of film memorabilia' for charity and saying she would take legal action.
Read Twinkle Khanna's tweet:
As a society do we really think it's all right to threaten a woman with bodily harm for trying to raise funds for a charity by auctioning a uniform used in a movie,a piece of film memorabilia ? I will not retaliate with violent threats but by taking legal action! #JaiHindhttps://t.co/OF7e5lTHel

— Twinkle Khanna (@mrsfunnybones) April 29, 2018
As the tweet she was responding to shows, journalist and author Sandeep Unnithan identified the man who wrote the Facebook post as Lt Col Sandeep Ahlawat, who wrote an impassioned indictment about the intended auction but ended by writing: "If you even make a feeble attempt to auction this piece of costume in the garb of "UNIFORM" then I will drag you to the court. You may like to check my credentials. You touch our honour and we will give you a bloody nose."
Read the Facebook post here:
However, comments on Twinkle Khanna's tweet have taken it upon themselves to explain Lt Col Ahlawat's usage of the phrase 'bloody nose,' saying it was to be interpreted metaphorically.
He's not threatening bodily harm. Bloody nose is a phrase

— Nitin Sharma (@nitin1sharma) April 29, 2018
Even authors do not understand that phrase. Wow!

— Sony Sharma (@sonygaargey) April 29, 2018
April 29, 2018
Much of social media agrees that Akshay Kumar's original post was unfortunately worded. Angry comments said "you're not a soldier to own a uniform. If you were, you wouldn't have thought of auctioning it in public" and "in very poor taste. You don't call costume as uniform. Stop the nonsense please."
Hi all I'm thrilled to announce that you can bid to win the actual naval officer uniform I wore in Rustom! Auction's proceeds will support the cause of animal rescue and welfare. Place your bid at https://t.co/6Qr0LRnTFm! pic.twitter.com/FF23tlogs1

— Akshay Kumar (@akshaykumar) April 26, 2018
The Naval Commander's uniform
Akshay Kumar wore in Rustom
was criticised when the film released as being inaccurate. Several Twitter users, Sandeep Unnithan among them, pointed out that the stripes and decorations on the costume were incorrect, with some decorations dating to several decades later than the period the film was set in.
Rustom
was a fictionalised account of the real-life Nanavati case in which a naval officer murdered his wife's alleged lover and was acquitted by a jury, resulting in the abolishing of the Indian jury system.
Twinkle Khanna, a former actress, is the author of
Mrs Funnybones
and
The Legend Of Lakshmi Prasad
. She is also a film producer and recently
superintended her husband's movie PadMan
under her production banner Mrs Funnybones Movies.