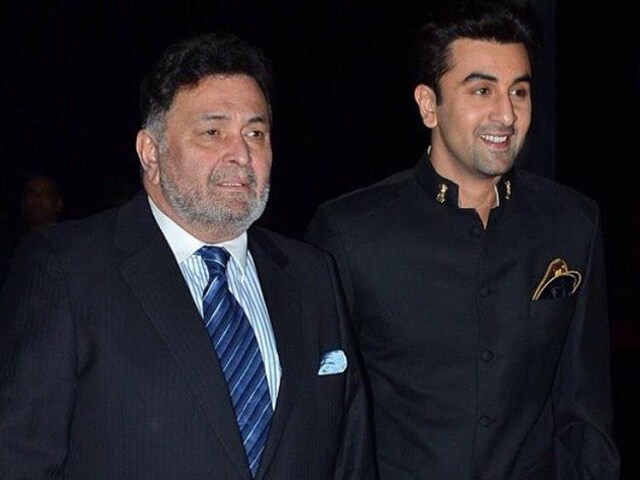 Highlights
'It was supposed to release three times in the past,' said Rishi Kapoor
'Till Wednesday, Anurag was still mixing the film,' he added
'He's such an irresponsible director,' said Mr Kapoor
New Delhi:
Actor Ranbir Kapoor's father Rishi Kapoor launched a blistering attack on Anurag Basu, director of his
son's new film Jagga Jasoos
, calling him 'irresponsible' in an interview with
mid-day
. Over the years in the making, endlessly delayed, repeatedly shelved - the wait for
Jagga Jasoos
rivaled the fabled literary wait for Godot. Unlike the existentially ambiguous Godot, however,
Jagga Jasoos
, starring Ranbir and Katrina Kaif, did finally arrive, releasing in theatres two Fridays ago (not without drama, more on that below). Reviews were good, business was not. And while Ranbir, also the producer, has diplomatically refrained from publicly censuring his director (Anurag Basu directed Ranbir in the very successful
Barfi!
some years ago), Rishi Kapoor has denounced the behind-the-scenes action in his trademark outspoken style.
Team
Jagga Jasoos
has referred jokingly to the delays in their film - Ranbir recently quipped about using Shah Rukh Khan's four-year-old son Abram's birthdays to keep track of time. His dad isn't as forgiving. "He (Anurag) is such an irresponsible director that he doesn't complete the film. It was supposed to release three times in the past two years, but it kept getting delayed," Rishi Kapoor told
mid-day
.
Days before
Jagga Jasoos
released on July 14, a source told NDTV.com
that post-production hadn't been completed and that the film has missed it's overseas deadline
s. Rishi Kapoor revealed to
mid-day
just how fine Anurag Basu was cutting it. "Honestly, Neetu and I saw the film on Thursday, only a day ahead of the release. Till Wednesday, Anurag Basu was still mixing the film. Can you imagine that? Pritam probably delivered the music only a week before," he said.
Anurag Basu isn't alone in this, Mr Kapoor acknowledged. "Today's filmmakers are doing this with everybody. They don't show their films before release to take opinions, and treat it as though they're making a nuclear bomb," Rishi Kapoor told
mid-day
, adding that he had no real opinion of Jagga Jasoos beyond thinking it was 20 minutes too long.
Rishi Kapoor was indignant on behalf of not only his son but also actor Govinda,
who shot for the film and saw his role dropped entirely
. "Ranbir hasn't held back on spending money on it. You even threw Govinda out of the film. If you don't want Govinda to work in your film, why did you ask him in the first place?
Iss sab mein Ranbir ka naam toh kharaab hoga, aur kya? Mera kharaab hoga
," Mr Kapoor told
mid-day
.
About his experience as producer, Ranbir Kapoor told comedy collective AIB succinctly, "Big mistake." His father's verdict on Anurag Basu was more damning. "I totally agree with Ekta (Kapoor) when she threw him out from her film. He had problems with Rakesh Roshan while working on Kites (2010)," Rishi Kapoor told
mid-day
.
Jagga Jasoos
is the third film that Ranbir Kapoor and Katrina Kaif have starred in, after
Ajab Prem Ki Ghazab Kahani
and
Raajneeti
. The film's collection so far - pending an update -
is Rs 46 crores
, as reported by trade analyst Taran Adarsh.