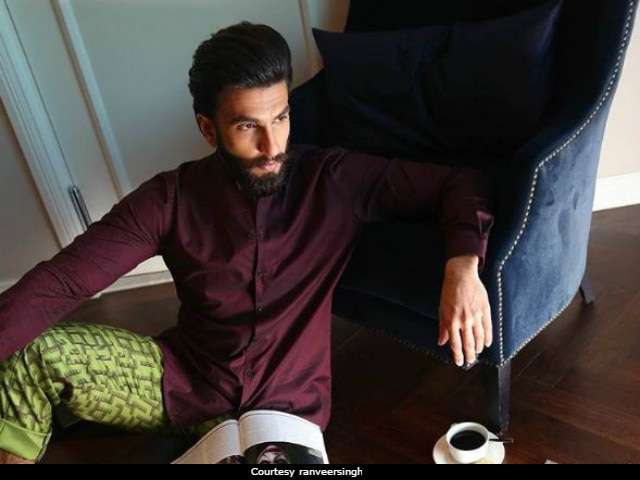 Highlights
'Ranveer required stitches on the head,' said a source
'Ranveer received initial first aid on the set,' the source added
Ranveer was rushed to a nearby hospital on Thurday
New Delhi:
Actor Ranveer Singh
suffered a head injury on the sets of Sanjay Leela Bhansali's period piece
Padmavati
on Friday, reported news agency IANS. However, the 31-year-old actor returned to shoot after being treated at a Mumbai hospital. Ranveer was reportedly shooting a sequence for the climax of the film when he hurt his head. He only realised he was bleeding after the shot ended. Ranveer was then treated with first aid before he was driven to a nearby hospital. A source close to the film's unit told IANS: "Ranveer hurt himself on the head while shooting for the film during a particular take but he was so engrossed in the performance that he did not realise it till cut was called. It was only after he started bleeding profusely from the head after 'cut' was called, did everyone realise that he was hurt badly."
Ranveer, who got stitches on the head,
returned to the sets of Padmavati
to finish his schedule for the day. "Ranveer received initial first aid on the set and was rushed immediately to a nearby hospital for immediate treatment. He completed the basic treatment and returned to the film's set to complete his portions of the shoot. Rather than let his injury slow him down or impact the shoot, Ranveer completed the day's work. He requires stitches on the head," the source added.
Ranveer plays the role of historic ruler Alauddin Khilji
in
Padmavati
and is a dreaded figure on sets once he gets into the skin of the character. Recently, the actor's spokesperson said: "Once he gets into his Khilji look in costume and make-up and is ready to go on set, people almost stay away from him unless needed and things quieten down as he is so compelling in his character when he slips into the skin of Alauddin Khilji. It's not easy, becoming so intense every day."
Ranveer co-stars with Shahid Kapoor and rumoured girlfriend Deepika Padukone in
Padmavati
. Deepika is cast in the titular role of Rani Padmavati while Shahid features as her husband, Raja Ratan Singh.
(With IANS input)