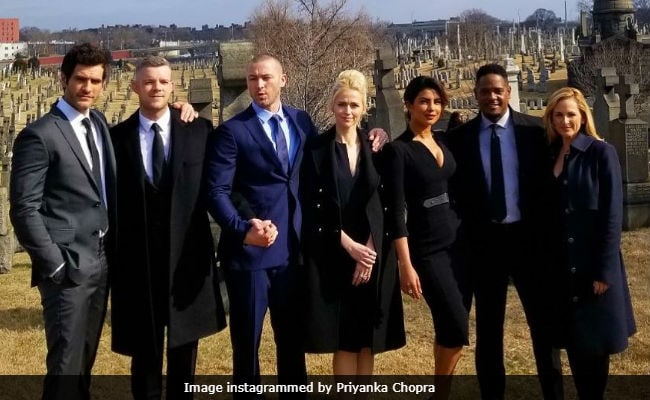 Highlights
Priyanka and her Quantico squad were filming in a graveyard
She hinted about a casino undercover assignment in previous photos
Quantico season 3 will air from April 26
New Delhi:
Priyanka Chopra shared a few photos from the sets of
Quantico
season 3, which hint at the death of a character. On Thursday, Priyanka posted a picture of the 'squad,' dressed in black formals, standing in a graveyard. Is team
Quantico
bidding adieu to a friend in the upcoming season? It will be known once the new season starts on April 26. In another picture Priyanka instagrammed, the 35-year-old actress wrote: "And then he said, 'I hate to see you go but I love to watch you leave'." Here are the new photos from the sets of
Quantico
, shared by Priyanka Chopra.
Priyanka Chopra posts regular updates about her popular television show. Her previous plot hint pictures were vibrant and bright as compared to the recent gloomy ones. Like
the casino photos
- it hinted at a thrilling undercover assignment that Alex Parrish (Priyanka's character's name) will undertake with her team. How spectacular Priyanka looked in the black Versace thigh-high slit dress?




Priyanka became a household name in the US with her television show, which first aired in September 2015. The ratings of the second season of Quantico were not as fabulous as the first one and Priyanka reportedly took a pay-cut for the third season.

Apart from Quantico, Priyanka has been busy making two Hollywood films - A Kid Like Jake and Isn't It Romantic?. A Kid Like Jake recently screened at the Sundance Film Festival, which Priyanka attended with her co-stars Claire Danes, Jim Parsons and Octavia Spencer and director Silas Howard.