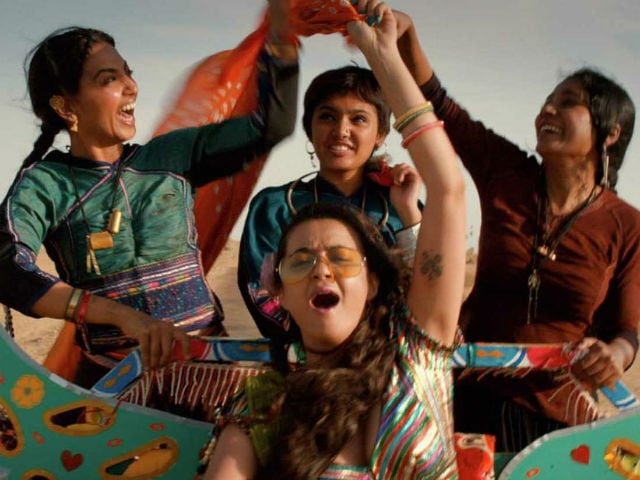 Highlights
Parched stars Radhika Apte, Tannishtha, Surveen Chawla, Lehar Khan
It has been produced by Ajay Devgn
The film will hit the screens on September 23
Mumbai:
There is something furiously flawed and formulistic about rural feminism in Indian cinema. When a film tells the story of a group of women in Rajasthan fighting to remain happy while the men in their lives rape and violate them every way possible, it's time to get very suspicious of the product.
Luckily, in
Parched
,
director Leena Yadav seems to have
gone beyond the cliches of male oppression in pursuit of the heart beneath the predictable images of women caught moving seductively amidst the sand dunes.
And here we might as well spare a round of applause for cinematographer Russen Carpenter who seems to have captured the lives of the four female heroes without letting the Rajasthani desertscape overpower the emotional energy that trots across the shimmering skyline.
But yes, we've seen forlorn seductive women floating across the sand dunes in any number of films.
Parched
is less lyrical than other desert sagas in the past. More brutal. Yet beautiful. The women seem to take to the patriarchal clobbering with a great deal of reluctance and a whole lot of sisterly camaraderie.
If this film was made 20 years ago, Leena would have cast Shabana Azmi, Smita Patil, Neena Gupta and Deepti Naval. Now, it's got Tannishtha Chatterjee, Radhika Apte, Surveen Chawla and Lehar Khan. And yes, a voice appearance by producer Ajay Devgn at the end of the trailer. In case, we forget
superstars do have a social responsibility.
Watch
Parched
trailer here:
(Except for the headline, this story has not been edited by NDTV staff and is published from a syndicated feed.)