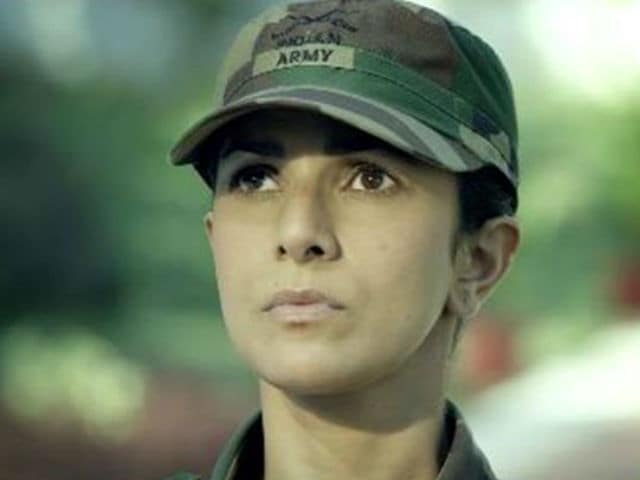 Highlights
"It's a great honour to play a soldier," says Nimrat
The actress has worked in films like The Lunchbox and Airlift
The Test Case will be streamed from April 25
New Delhi:
Actress
Nimrat Kaur, the star of films like The Lunchbox and Airlift
, is all set to make her web series debut with ALTBalaji's
The Test Case
, in which she plays a soldier Shikha Sharma. Nimrat, whose father was also an Indian Army officer, said that the web-series is extremely close to her heart and she got nostalgic when she wore the army uniform for
The Test Case
. "I have grown up watching my father put on the uniform for work, it's a great honour to play a soldier. There's a sense of responsibility attached to the series," said the 35-year-old actress. In 2015,
Nimrat Kaur featured in the fourth season of the American television series
Homeland
. Here are the excerpts from the interview:
NDTV:
Nimrat, you come from an army background. Was it an emotional moment when you put on that uniform?
Nimrat Kaur:
Yes, absolutely. It's been very emotional and nostalgic. I used to watch my father getting ready for work every morning and that is something I have grown up with. So there is a very inexplicable sense of pride in putting on that uniform, and you feel responsible even though, I know I am acting and I am not an army officer.
NDTV:
When your father was serving his duties, that time there weren't too many women in armed forces. Now, there are lot women who join the army. But there are not many who are a part of combat operations. In
The Test Case
, you are actually are a combat officer.
Nimrat Kaur:
Yes, that's exactly what we are hoping to bring with the show. That women are as capable and multifaceted as they want to be in every genre, in every profession, we have seen across the world. It is not always about being a man or a woman. It is just about having the capability and the right mindset to qualify for a job. So if a woman is employed with a certain skill set and you know there is something she can bring to the table, then whether it's on the combat role in the army or being a doctor elsewhere. There shouldn't be any difference and this is what the show hopes to bring to the forefront. It's obviously a fictional account because we don't have a single woman in a combat role in the army, yet, I think this will set a precedent and I feel that it is a matter of time. We recently saw a young lady from Bikaner was commissioned into the BSF, as the first woman in a combat role. At that point, I really felt proud and even tweeted about it.
NDTV:
What is that one thing, you would want to see a woman doing in the army?
Nimrat Kaur:
I think, I want to see a woman making her own choice and there shouldn't be any discrimination. Their capabilities should not be questioned. I think it's only a matter of how bright an officer is and how capable they are. Women can sustain in a sensitive area, under duress and they are mentally stronger than men. I am not saying that women are necessarily as physically strong as male officers, of course they can't be as there is a biological difference. But I feel, there is a balance one can find. I feel women have to be looked at as officers and be treated that way and not looked at as women first and then officers.
NDTV:
You have undergone rigorous training for the role of Captain Shikha Sharma.
Nimrat Kaur:
It was exhausting and challenging for me as a human being. Honestly, I have never taken up something as seriously challenging as this. I took this training up along with dietary specifications and excluding everything. Almost everything I love to eat. You know here I come from a North Indian Sikh family, I love my food. So I had to break up with a lot of food, I really loved. Those were the things I can look back and laugh about. But it was an uphill task every single day. I had to be very strict and be happy with very little. But now that I look back I have never been stronger and more disciplined. Not just in my mind but in my body. I've never felt more disciplined about being just responsible to you. You know I think that's what comes with being in army yourself. You have to be responsible yourself before being responsible for a million other people.
NDTV:
After movies like
The Lunchbox, Airlift
and then TV series
Homeland
, we have you working on a new format (first in India). Somebody else would have thought twice but you seem to be pretty gung-ho and experimental.
Nimrat Kaur:
Its a new format. We don't know how it will be accepted, because
Homeland
is a hugely popular and airs on an established network. I walked into an arena where I had an audience ready. Here, we are looking to build an audience. We are trying to create new kind of viewers into this web medium.
I am not a typical web watching person. I often use the wrong terms for everything. Honestly, I'm a disaster that way but I do know when you have something that is good to tell, people will watch it. It's just the question of being true to your content, staying true to what you want to tell. The audience is very smart, we all look at a trailer and know whether we are going to watch the movie or not. So it's as simple as that, no one is fooling each other anymore. I think it's time you know the audience is stopped from being taken for granted. This is a show which is going to be a lot of fun to watch. It's not just about the army, a human drama. It has got a lot of grit and interesting equations and we are hoping to create an audience for this.
NDTV:
Your father was martyred in Kashmir and you have spoken about it recently. We had Gurmehar Kaur, who was trolled. It seems these days we need to adhere her to a brand of nationalism, to deem her patriotic and nationalist. What would you say?
Nimrat Kaur:
Patriotism to me is something that lives in my heart. This is how we have been brought up. We went through some very difficult times while growing up. I lost my father in Kashmir at a very young age and my mother was also very young at that time. However, we were brought up with lot of positivity and we did not live in the past. I'm a very peace loving person and I feel no war anywhere and no kind of violence and terrorism and acts that are born out of terrorism are justified.
Patriotism to me is you can do the best, being any citizen of a country you belong to. Living by what you want people to live by is patriotism to me.
NDTV:
What is your take on the fairness cream campaign. Abhay Deol recently said that Indians are racist, especially because a lot of your colleagues endorse fairness cream brands.
Nimrat Kaur:
I feel these are just waves that come up and down. This is something I think should just not exist in any part of the world. Even when I was modelling, there was sense of a definite consciousness about the fact that it is a space that one just never one wants to endorse or wants to look at it. I just feel that I don't want to personally subscribe to. It's not even a philosophy in my life. I think colour is just the last thing one really looks at so it. The idea is that there needs to be a result and that's what is something to talk about.
NDTV:
Are you also doing a TV series with M. Night Shyamalan ?
Nimrat Kaur:
I can't talk much about it. There are lot of exciting stuff coming up this year and I'll be in a position to talk about it later. I did a series last year called
Wayward Pines
. There's always a chapter which is constantly open for you.
NDTV:
Working in Hollywood and working in the Hindi film Industry. What's the difference like?
Nimrat Kaur:
When you work in Europe, America or any other place, you realise how emotional we are as Indians and how adjusting we can be. I think there is a lot of adjustment that we all do here. Having said that, there is a great sense of discipline and we respect each other's time. That is surely something we can really learn from there. Nobody takes anyone's time for granted. I really love that and think that's something we really ought to bring down here in our work environment.
NDTV
: As you said, the fairness cream controversy is a wave that comes and goes. There are other two issues that the women in the industry keep talking about - nepotism and pay parity.
Nimrat Kaur:
I think it is completely boring to talk about this anymore. The word "nepotism" is almost fashionable to use. I feel that anybody including you and me would have access to the profession in which our parents are and it would be easier than something we wanted to do outside of it. So it's just a result of that. It exists everywhere in every form. Whether it's a banker, a lawyer or a doctor. You will have access to that world much easier and faster. After that, everyone is on their own, nobody goes to movie because he/she is someone's son or daughter. I watch it because I want to watch it on screen and I think everybody is very sure about where they want to spend their money.
The Test Case
, directed by Nagesh Kukunoor, will stream from on ALTBalaji from April 25.