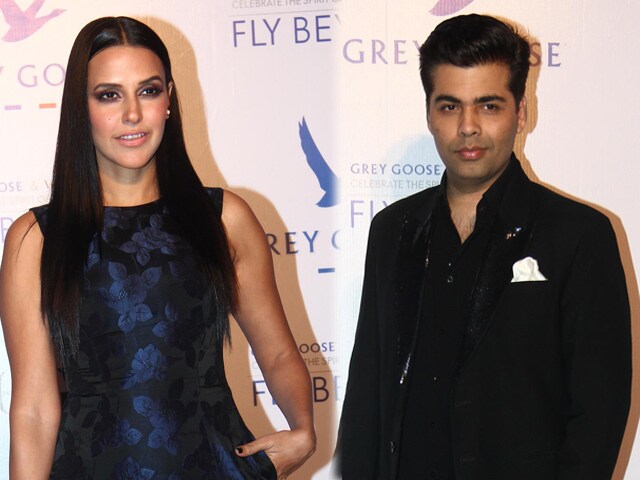 Mumbai:
Actress Neha Dhupia says she feels lucky to have worked in filmmaker Karan Johar's upcoming production
Ungli
and now wishes to be a part of film that is directed by him.
The 34-year-old
Phas Gaye Re Obama
actress is a fan of Kara Johar's films and wants to be directed by him in a glossy entertainer. "I feel lucky that I got to work in Dharma Productions film. It is fantastic to work in Karan's production and I love his films. He is on my wish list of all those directors I want to work with. I love his glossy entertainers. I would love to be directed by him in such a film. I really liked his
Student Of The Year
," Neha told PTI in an interview.
Karan Johar was one of the reasons Neha signed
Ungli
, directed by Rensil D'Silva and co-starring Emraan Hashmi, Kangana Ranaut and Randeep Hooda. "I had more than one reason to be a part of this film, it has a fantastic producer, an amazing director and a lovely cast. Emraan, Kangana and Randeep are such chilled out people that it is easy to bond with them. We all are easy going people so it was a lot of fun on the sets. I am glad to have done
Ungli
," she said.
The film is also special for Neha as she is playing a journalist for the first time on the screen. "It was not an easy character as there is a specific way of how journalists present news. They speak in monotone, without showing emotions, which as an actor I found difficult to achieve because we are used to express in every line but here I had to be indifferent even if I was giving news of someone's demise," she said.
Neha, who has been a part of critically acclaimed films like
Ek Chalis Ki Last Local, Delhi Heights
and the more recent
Ekkees Toppon Ki Salaam
, said she chose films on the basis of story and her role.
"Box office success matters but I feel years later when people would watch your film on DVD; they would not care if that movie made 100 crore or more but would just notice your performance and how good the film is. For me that matters more. Box office is a bonus," she said.
Neha's next after
Ungli
is Punjabi comedy film
Double Di Trouble
, co-starring Bollywood veteran actor Dharmendra.
The actress, who has a special appearance in the movie, loves doing comedies and would like to play a role where she is required to enact dry humour.
"I think I can do comedies really well, especially the ones where I have to be humorous with a straight face. I am really funny in real life but my kind of sense of humour is poker-faced, it is not over-the-top. I would like to do something like that," she said.