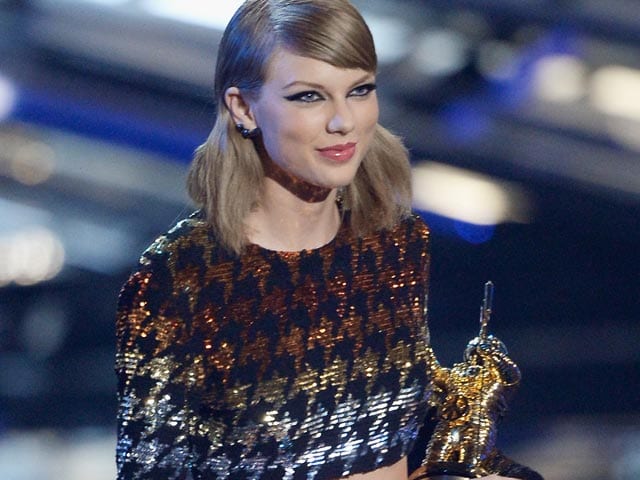 Los Angeles:
Pop superstar Taylor Swift dominated the MTV Video Music Awards, winning four of her whopping 10 nominations and burying the hatchet with rapper Nicki Minaj.
Taylor won Best Pop Video and Best Female Video for her hit
Blank Space
, beating Beyonce in both categories and former foe Nicki Minaj in the second. (Also Read -
MTV VMAs: Watch Out, Kanye West For President
)
She also won Video of the Year and Best Collaboration for
Bad Blood
, with Kendrick Lamar.
In a surprise start to the awards show, Taylor joined a resplendent Nicki, festooned in a red tribal-style headdress, at the end of her opening set when they broke into her hit record
Bad Blood
.
Taylor strode out in a skimpy red dress for the set - topped with a quick hug - that appeared to end their Twitter row. (Also Read:
Taylor Swift vs Nicki Minaj in Tweet Exchange on VMAs
)
They hit the headlines last month when Nicki's
Anaconda
was passed over for a Video of the Year nomination.
She had blamed the slight on bias against full-figured black women, saying the music industry preferred "very slim" women.
The track on Sunday won her Best Hip Hop Video. The 'very slim' Taylor, who is Sunday's most nominated star, responded to Nicki that "I've done nothing but love and support you" and invited her to share the stage if she wins for her video
Bad Blood
. (Also Read:
Taylor Swift Ends Bad Blood With Apology Tweet to Nicki Minaj
)
Nearly two days later, she backtracked and apologized. Nicki had said she wished that Taylor had spoken out on portrayals of African American women.
The host of Sunday night's show was shock pop diva Miley Cyrus, who graced the red carpet in an outfit so revealing that the
New York Daily News
named it a "crotch chandelier." (Also Read:
Miley Cyrus, Feeling Empowered, Returns to the MTV Stage
)
The former idol of tween girls around the world made Music Awards history two years ago by performing in a flesh-toned bikini and bent over and gyrated provocatively with singer Robin Thicke.
"May be MTV figured the easiest way to keep me from performing was to ask me to host," she joked onstage Sunday.
List of winners:
Video of the Year - Taylor Swift, Kendrick Lamar,
Bad Blood
Michael Jackson Video Vanguard Award - Kanye West
Artist to Watch Award - Trap Queen,
Fetty Wap
Best Pop Video - Taylor Swift,
Blank Space
Best Female Video - Taylor Swift,
Blank Space
Best Direction - Kendrick Lamar,
Alright
Best Rock Video - Fall Out Boy,
Uma Thurman
Best Male Video - Bruno Mars, Mark Ronson,
Uptown Funk
Best Hip-Hop Video - Nicki Minaj,
Anaconda
Best Collaboration - Taylor Swift, Kendrick Lamar,
Bad Blood
Best Art Direction - Snoop Dogg,
So Many Pros
Best Cinematography - Kendrick Lamar, Flying Lotus,
Never Catch Me
Best Editing - Beyonce,
7/11
Best Video with Social Message - Kanye West, Big Sean, John Legend,
One Man Can Change the World
Best Visual Effects - Justin Bieber, Jack U,
Where Are U Now