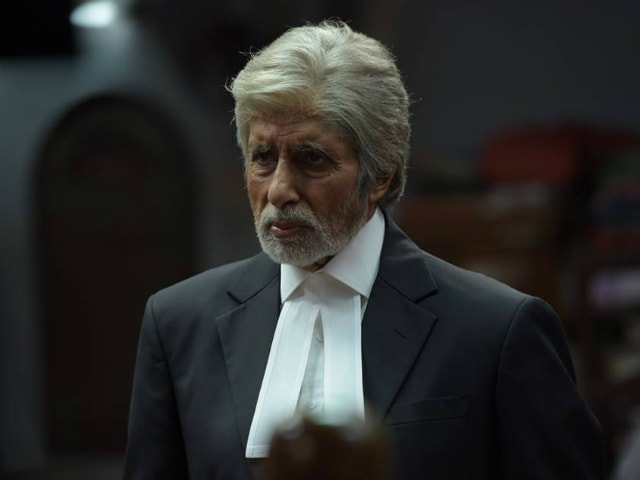 Highlights
Amitabh Bachchan's upcoming films include Te3n and PINK
Te3n, co-starring Nawazuddin Siddiqui, Vidya Balan, releases on June 10
Amitabh Bachchan is also in talks with Yash Raj for a movie
Mumbai:
Actor Amitabh Bachchan, who is gearing up for the release of director Ribhu Dasgupta's forthcoming thriller
Te3n
, said that child trafficking is an "abominable crime and the guilty must be punished", revealed the reason behind him doing
Te3n
and shared his experience of working with Nawazuddin Siddiqui and Vidya Balan.
Excerpts from his interview:
Ques.
Te3n
addresses itself to the extremely grave issue of children's safety. Was that a major factor in your decision to do the film?
Big B:
Frankly, I had not thought about it till you brought it up. But yes, children's safety is an important issue, though the film does not entirely focus on this aspect. It is a thriller, a film that wraps you around a grandfather, played by me, looking for and trying to find the missing pieces of the death of his grandchild. I liked the idea of the story and I was comfortable working with Sujoy Ghosh and Ribhu, both of whom I had worked with before.
Ques.
Every year thousands of children fall prey to the cancer of child abuse and child trafficking. Your comments on the issue?
Big B: Yes, this is an abominable crime and the guilty must be punished. Children too must be protected and more importantly educated and taught to bring such occurrences to the attention of elders and the authorities. Most children at that young impressionable age are too frightened to speak about it.
Ques.
You and the very talented Ribhu Dasgupta earlier worked in the serial
Yudh
. In spite of its failure why did you decide to work with him again?
Big B:
If failure is going to be the yardstick of prospective work association, then Ribhu should have thought a hundred times before working with me, because my multiple failures do not compare with his very limited, so-called failures. I liked his work and his mind and so I worked with him and would wish to work with him in the future also.
Ques.
Te3n
has a tremendous cast, led by you. Vidya Balan and you last worked together in
Paa
as mother and son. What sort of an equation do you share with her this time in
Te3n
?
Big B:
Vidya has been an exceptional talent and is a wonderful co-star. It is always enlightening to be in her company in front of the camera. She plays a police officer in this one, who 'mothers' the complicated situation that John Biswas, the character I play in the film, undergoes.
Ques.
For the first time you worked with Nawazuddin Siddiqui in
Te3n
. He says it was an experience of a lifetime. How about you?
Big B:
We actually co-starred in one film before - Shoojit Sircar's
Shoebite
, which is an unreleased product. And that was just a passing shot. I was so impressed with his performance that I was wondering why he had not got bigger and more substantial roles. Soon enough as we all know he has established himself as one of the finest talents we have today. It has been a cherished moment for me to be working with him.
Ques.
Both your releases this year,
Wazir
and
Te3n
, are about bereavement. Could we hope to see you in something happier soon?
Big B:
Ok, point taken and we shall start the hunt. Though I must admit that the hunts have become pretty arduous and mostly without desired results these days.
Ques
. Please tell us about your forthcoming films.
Big B:
There is
PINK
, produced by Shoojit Sarkar and directed by Anirudh Roy, completed and releasing by September. There is a project with YRF.
Sarkar 3
is under the process of scripting and as soon as that is ready we go ahead.