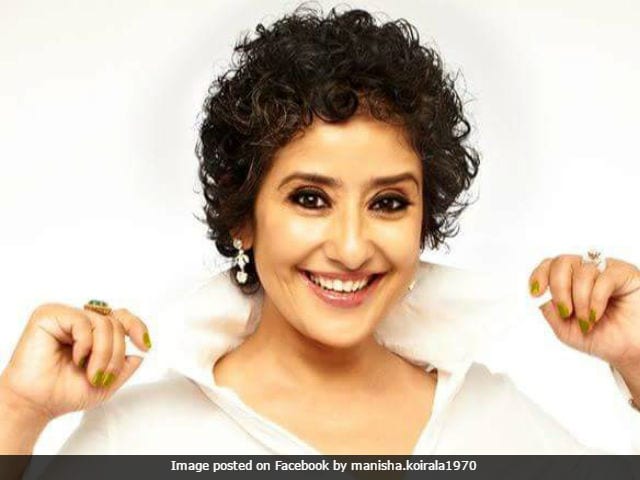 Highlights
"I knew I had to mentally prepare myself to fight cancer," said Manisha
Manisha: The film fraternity welcomed me after my battle with cancer
"I got a huge support from my family," said Manisha Koirala
New Delhi:
Actress Manisha Koirala is quite 'thrilled' to be a part of actor Sanjay Dutt's biopic, directed by Rajkumar Hirani
. The 46-year-old actress will be seen portraying the role of Sanjay Dutt's mother, Nargis in the film. Manisha Koirala, who is a cancer survivor, spoke about her struggles in an interview with news agency IANS. The
Mann
actress said that after her cancer treatment she used to look like an 'alien'. "I knew about my hair loss, but was not sure of my look. At times, after surviving from a disease like cancer people's look changes. All I knew was that I had to mentally prepare to fight it and I got a huge support from my family. After my chemotherapy, I lost my hair, eye brows and lashes. Looking at the mirror. I felt like an alien," IANS quoted Manisha Koirala as saying.
In 2012, Manisha Koirala was diagnosed with ovarian cancer.
The actress told IANS that the film fraternity welcomed her after two-year battle with cancer. She said that Salman Khan, with whom she has co-starred in films like
Majhdhaar
,
Sangdil Sanam
and
Khamoshi: The Musical
, supported her family during her illness.
Speaking about how filmmaker Rajkumar Hirani approached her for the role of Nargis Dutt in his film, she told IANS: "Though I wanted to get back to work, I was nourishing my body and focusing on my health as chemotherapy damaged some of my body cells. I was in Nepal then, when I got a call from Raju ji (director Rajkumar Hirani). He told me about the film and my character."
Manisha Koirala added that she is re-watching Nargis Dutt's films to 'perfect' her performance. "I watched a documentary. I am watching her (Nargis Dutt's) films again and again and talking to (daughter) Priya Dutt a lot to know how she was in real life, her body language; how she used to talk, smile. I'm trying to get all the nuances right," IANS quoted Manisha as saying.
Manisha Koirala started her acting career with Nepali film
Pheri Bhetaula
(1989). She made her Bollywood debut with Subash Ghai's
Saudagar
(1991). The actress is well known for her performances in films such as -
Khamoshi: The Musical
,
Bombay
,
1942: A Love Story
and
Dil Se..
.
When asked about the changes in Bollywood over the last five years, Manisha Koirala told IANS: "One of the positive changes is that the audience is accepting films on experimental subjects so, these new-age films are getting financial success. It is no more those melodramatic films in Hindi cinema. So, filmmakers are ready to make films with different subjects."
(With IANS inputs)