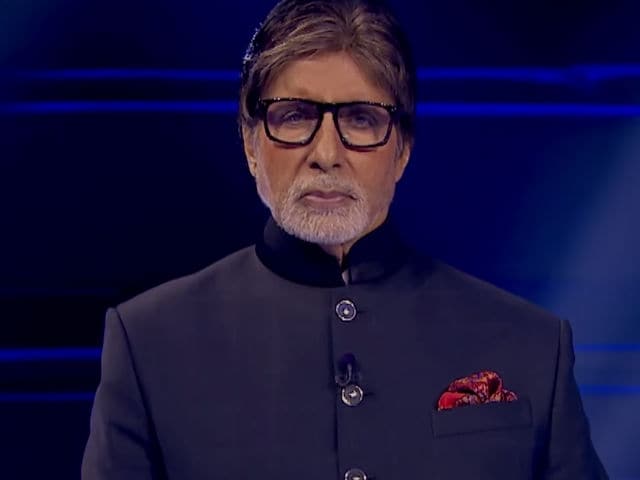 Highlights
Big B described the process of selecting contestants for the show
Mahipal Singh took home Rs 6,40,000 while Harpreet Singh won Rs 40,000
Neha, the third contestant of the evening, brought comic relief
New Delhi:
Amitabh Bachchan started Thursday night's episode of popular quiz show
Kaun Banega Crorepati
by telling the audience how the fastest finger fist contestants are selected for the show. He told the audience that after clearing a series of rounds including a written test and several interviews contestants are zeroed in to take part in the show.
Mr Bachchan then turned to hot seat occupant
Mahipal Singh and they started with question #10, in which Mr Singh utilized his remaining two lifelines. He took a chance and answered correctly to secure a minimum win of Rs 3,60,000 within the first 15 minutes of the show.
After the tricky 10th question, Mr Singh was back to his usual casual style and started teasing Mr Bachchan saying, "I'm still charging." Mahipal Singh quit without answering the 12th question taking home Rs 6,40,000. After Mahipal Singh's exit the quizzing process restarted with fastest finger first, which was won by Harpreet Singh, a junior associate advocate from Amritsar.
Harpreet's first question was based on a song from Salman Khan's
Bajrangi Bhaijaan
and Mr Singh had utilized his audience poll lifeline to get the right answer. On question #4 Harpreet Singh faced difficulty when he used the 50-50 lifeline leaving him in a dilemma. But no worries, Mr Singh answered correctly securing minimum Rs 10,000 win. Harpreet Singh quit without answering question #8 using all his lifelines. He took home Rs 40,000 as prize money.
The third contestant for Thursday night's episode was Neha from Nalanda, Bihar, who described herself as an extremely cheerful person. Neha's family story intrigued Mr Bachchan quite a lot. Neha said that her brither-in-law is named after him and his wife's name is Jaya (like that of Mr Bachchan's wife jaya Bachchan). Neha also said that her husband's name is Abhishek and her father-in-law wanted a daughter-in-law like Aishwarya Rai (like Mr Bachchan's daughter-in-law).
Amitabh Bachchan surprised Neha by calling his son Abhishek. Neha was super thrilled to talk to Abhishek and told him all that she told Mr Bachchan.