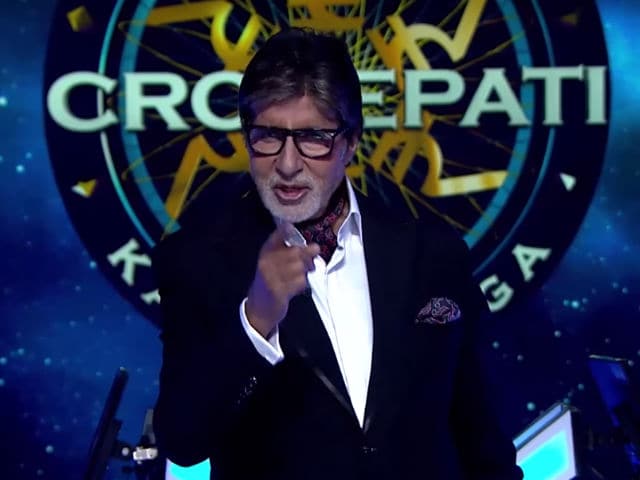 Highlights
Big B said he'll remember Mahipal when he'll face a difficult situation
Mahipal Singh disregarded the timer and took his time to answer questions
Mahipal Singh's game halted after question #9
New Delhi:
The third episode of popular television quiz show
Kaun Banega Crorepati
, hosted by Amitabh Bachchan, started with Archana's turn, who had won Rs 40,000 in
Tuesday night's episode
. Archana impressed Mr Bachchan with her happy-go-lucky attitude in the time of stress and ensured everyone laughed with her in tonight's episode. In one instance, "computer
ji
" asked her which film won the 2017 National Award for Best Film on Social Issues. Archana was genuinely confused between
Neerja
,
Udta Punjab
and
PINK
. She used two of her lifelines and answered correctly
PINK
. When Amitabh Bachchan explained the plot of the Aniruddha Roy Chowdhury-directed film, he said "some person who played the lawyer," Archana quipped she knew who played the role and Mr Bachchan along with the audience were entertained by Arachan's leg-pulling. In case, you are still wondering, it was Amitabh Bachchan, who played the lawyer in the film.
Archana played fabulously till question #11. She lost and took home Rs 3,20,000. The next contest on the hot seat was Mahipal Singh, who challenged Archana's quick wit, like when he said, "
Aapse (Mr Bachchan) milke hum charge ho rahe hai
"
Mahipal Singh answered the first five questions with ease securing Rs 10,000 prize money. His casual style of answering the questions was praised by Mr Bachchan. Mahipal Singh, on Mr Bachchan's request also sang a Rajasthani folk song.
The time ticker did not alter Mahipal Singh's style of casually answering the questions, which compelled Mr Bachchan to say "pranam" more than once. Mahipal Singh took his sweet time to give every answer and in one of the questions he invoked Amitabh Bachchan's infamous injury while filming
Coolie
. He was right of course and after that Mr Bachchan got up to hug the Mr Singh. Amitabh Bachchan said: "Jab bhi mujhe koi dukh sankat hoga mai aapko yaad karunga. Aapko hichki ayegi."
Mahipal Singh's game halted after question #9. His journey will continue in Thursday night's episode.