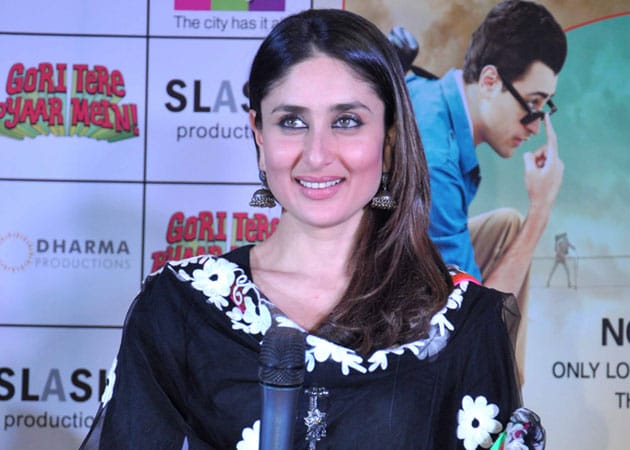 Highlights
Keen to follow in the footsteps of her mother-in-law Sharmila Tagore, actress Kareena Kapoor says she wants to work in the Bengali film industry.
"Satyajit Ray was one such director with whom my mother-in-law had the opportunity to work in so many films. I also hope to be able to work with some of the great directors of Bengal," Kareena said.
Describing the Bengali film directors as very artistic and with a deep sense of good scripts, Kareena said, "I have never been offered a Bengali film. But I want to work. Language comes as a problem but that can be managed with dubbing."
When asked, the 33-year-old actress said she never had the opportunity to spend enough time in Kolkata.
"But I love the food over here. The city is culturally very rich. If I do a Bengali film it will also give me the chance to understand the city better," she said.
Kareena was in Kolkata to promote Punit Malhotra's romantic comedy Gori Tere Pyaar Mein, which also features Imran Khan. The film will release this Friday.
Kareena said the film, in which she plays the role of a social activist, is a complete family entertainer.
"I love doing different roles. In my last film Satyagraha it was an intense role and here it is very fun," Kareena a
Kolkata:
Keen to follow in the footsteps of her mother-in-law Sharmila Tagore, actress Kareena Kapoor says she wants to work in the Bengali film industry.
"Satyajit Ray was one such director with whom my mother-in-law had the opportunity to work in so many films. I also hope to be able to work with some of the great directors of Bengal," Kareena said.
Describing the Bengali film directors as very artistic and with a deep sense of good scripts, Kareena said, "I have never been offered a Bengali film. But I want to work. Language comes as a problem but that can be managed with dubbing."
When asked, the 33-year-old actress said she never had the opportunity to spend enough time in Kolkata.
"But I love the food over here. The city is culturally very rich. If I do a Bengali film it will also give me the chance to understand the city better," she said.
Kareena was in Kolkata to promote Punit Malhotra's romantic comedy
Gori Tere Pyaar Mein
, which also features Imran Khan. The film will release this Friday.
Kareena said the film, in which she plays the role of a social activist, is a complete family entertainer.
"I love doing different roles. In my last film
Satyagraha
it was an intense role and here it is very fun," Kareena a