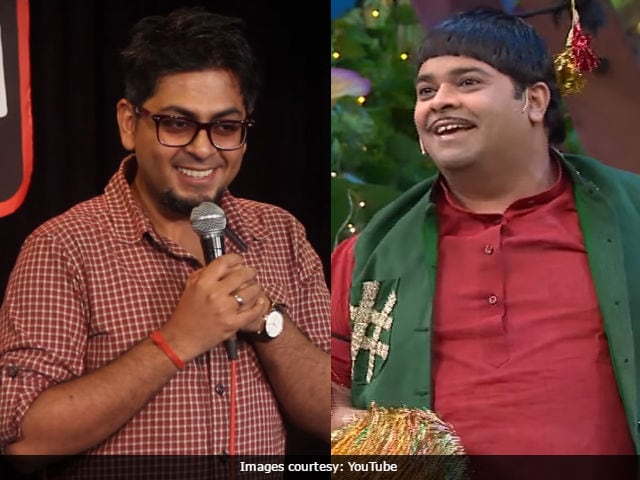 Highlights
Abijit Ganguly says Kiku Sharda's script was lifted from one of his own
"No Kapil Sharma, plagiarism is not OK," wrote Abijit Ganguly
Abijit have used the joke in question for three years in his performances
New Delhi:
Soon after celebrating its 100th episode, The Kapil Sharma Show has found itself accused of plagiarism. The comedy series
completed its centennial episode over the weekend
and Abijit Ganguly, a stand-up comedian, has now alleged that a segment of the show, featuring show regular Kiku Sharda, had been lifted from his script. In a lengthy Facebook post, Mr Ganguly accused the writers of
The Kapil Sharma Show
of plagiarism. Mr Ganguly said that he has been performing the 'having an elder brother' script for almost three years and uploaded a video of the same gig on social media two weeks ago. "No Kapil Sharma, plagiarism is not OK. It is not OK to do this. It is not OK to lift a man's joke and do it on national TV where millions will now think you wrote that joke, and if I am to ever perform it, it comes off as I lifted it," wrote Mr Ganguly.
Of the joke, Mr Ganguly wrote: "One of the jokes in the routine is an observational joke on how from from Kapil Dev to Zaheer Khan (citing some other names, such as Harbhajan Singh, Srinath, Kumble) all successful Indian bowlers have been co-incidentally younger brothers, leading to the punch of 'Do you realise how weird it is that India's bowling strength depends on the fact that elder brothers never let younger brothers ever bat'," adding, "There I saw Kiku Sharda trying to use my joke (and honestly making a mess of it) while Sidhu and others laughed out in their usual hysterical manner as every cell in my body burnt with rage."
Mr Ganguly said that he was informed by a friend that his joke had been copied by
The Kapil Sharma Show
and later, he checked to see if it was true. "I was genuinely flustered but still wanted to check before drawing any conclusions. Having checked online, I am disappointed and gutted to see that they have indeed done that," Mr Ganguly wrote.v Mr Ganguly said that he also thought that the similarity between the two gigs could have been a coincidence but, "The fact that right two weeks after I released this bit (which got a decent amount of traction), they just happen to use it while awkwardly trying to use the same examples as premise makes it clear what has happened."
Watch Abijit Ganguly's performance here:
Watch Kiku Sharda's performance (at 52.20) on
The Kapil Sharma Show
:
"I am feeling angry, and helpless. I just hope there can be enough noise around this, so that it doesn't happen anymore with anyone else," Abijit Ganguly concluded.
The Kapil Sharma Show
has been mired in controversy for over a month now, ever since headliner Kapil Sharma allegedly assaulted co-star Sunil Grover on a plane. Mr Sharma, said to be drunk, is accused of having made a scene on the flight and then hit Mr Grover with a shoe for trying to calm him down. Sunil Grover has not returned to The Kapil Sharma Show and has struck out on his own, with rumours that he's finalizing details of his own comedy show.
As his show celebrated 100 episodes, Kapil Sharma thanked those colleagues who had quit for helping make the series a success. Sunil Grover later said
he was 'grateful'
for the role
The Kapil Sharma Show
played in his career.