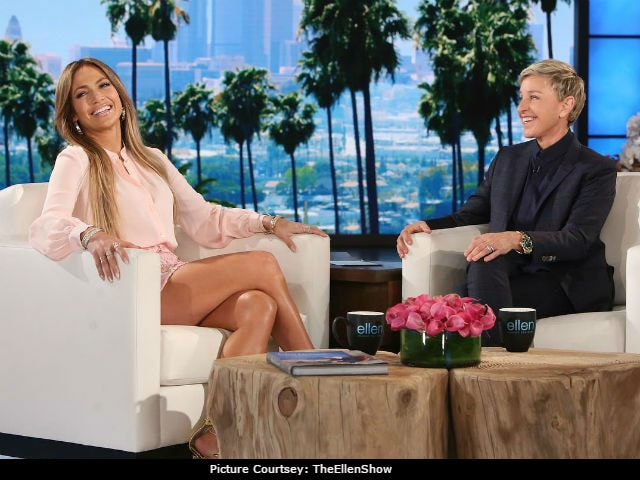 Highlights
Jennifer Lopez said that she is currently single
Jennifer appeared on Ellen DeGeneres on February 21, 2017
"That's my new boyfriend," said Jennifer Lopez
New Delhi:
Singer Jennifer Lopez, who recently made a stop at
The Ellen DeGeneres Show
, chose singer Harry Styles over other Hollywood A-listers and singers in the options given by Ellen DeGeneres on her TV show. The
Ain't Your Mama
singer, in the starting of the show, told the show host that presently she is single and busy, and
doesn't have time for dating
. Ellen then asked her to play a game titled 'Who'd You Rather?' and choose the man of her dreams. Multiple options were given to the singer to choose from and eventually Jennifer ended up zeroing in Harry Styles over stars like Leonardo DiCaprio, Brad Pitt, Bruno Mars, Nick Jonas, Jamie Foxx, Chris Martin and others. "That's my new boyfriend! He's little bit young," the star said with a laugh.
Ellen
termed Harry Styles as Jennifer's "ultimate boyfriend" after she took his name almost every single time.
The 47-years-old singer, who was reportedly dating Drake, was asked by
Ellen
that why does she date young men. This was Jennifer Lopez's answer: "It's not like you have to be younger. I meet people, and then if I like them I go out with them and if I don't, I don't. It's about the person, not the age." Jennifer was previously married to Ojani Noa, Cris Judd and Marc Anthony, and has also
dated Ben Affleck
and Casper Smart.
Jennifer Lopez also didn't miss the chance to praise Drake. She said: "
I love Drake
. He's so brilliant, talented, amazing. We made a song together, we had a great time. I have so much love for that boy."
Video: Watch What Jennifer Lopez Said About Drake on Ellen's Show:
Jennifer's debut album,
On the 6
in 1999, incorporated different parts of her life and upbringing.
On the 6
marked 'exploring love' to be her theme that she continued to explore throughout her future albums.