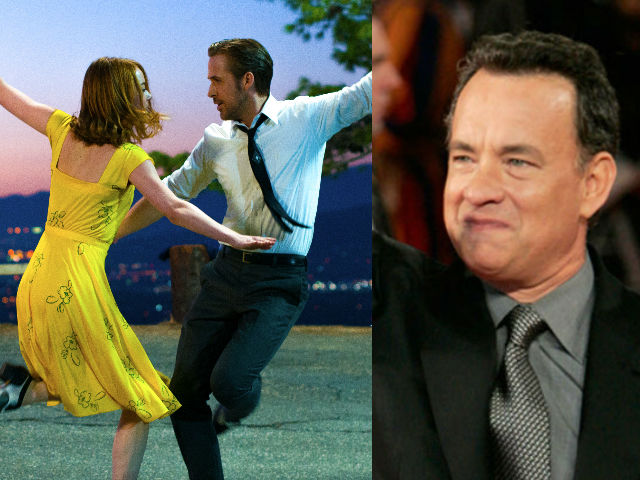 Highlights
La La Land stars Emma Stone and Ryan Gosling
Tom spoke about it at the Telluride Film Festival
He is promoting his film Sully there
London:
Hollywood actor Tom Hanks has
heaped praise
on Ryan Gosling - Emma Stone film
La La Land
, saying that Hollywood is "doomed" if people don't like the movie.
The Oscar-winning actor was promoting his own new movie
Sully
at the Telluride Film Festival when he interrupted the 'Q & A' to extol the new musical, which has been directed by Damien Chazelle, reported Female First.
"This is not a movie that falls into some sort of trend. I think it is going to be a test of the broader national audience, because it has none of the things that major studios want," Tom said.
"Pre-awareness is a big thing they want, which is why a lot of remakes are going on. (
La La Land
) is not a sequel, nobody knows who the characters are. But if the audience doesn't go and embrace something as wonderful as this then
we are all doomed.
"
The 60-year-old actor said he is impressed the project got made because it is so different to anything else around and he is thankful studio bosses ignored trends to green light the movie.
"I like to think we approach movies the same way we approach being members of the audience, in that you just want to see something you have never seen before. It's funny."
"When you
see something
that is brand new, that you can't imagine, you think 'Well thank God this landed', because I think a movie like
La La Land
would be an anathema to studios otherwise. Number one, it is a musical and no one knows the songs."
"We all understand the business aspects of it. It's cruel and it's backbreaking and takes-no-prisoners. But there's always that chance where the audience sees something that is brand new, that they never expected, and embraces it, and celebrates it," he said.
(Except for the headline, this story has not been edited by NDTV staff and is published from a syndicated feed.)