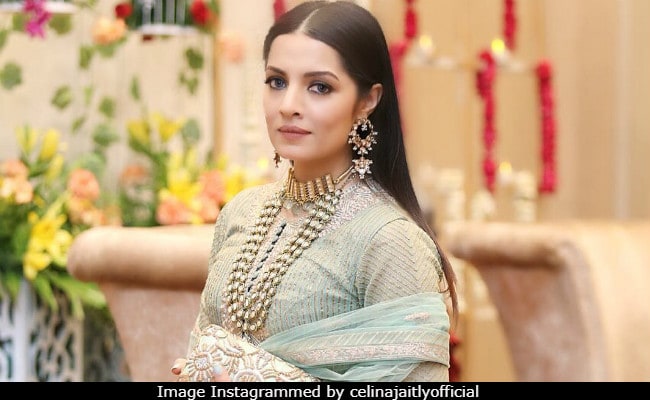 Highlights
"It's just too painful to talk about," said Celina
"I've been trying to keep it together," she said
"It's all just so difficult to deal with," she added
New Delhi:
Actress Celina Jaitly recently gave birth to twins - a boy and a girl -
one of who could not survive
. Celina Jaitly also lost her father, who was suffering from a prolonged illness, in July this year. The actress,
who wrote lengthy posts about the unfortunate developments
, told news agency IANS: "It's all just so difficult to deal with... I've been trying to keep it together since papa passed away." In a Facebook post over the weekend, Celina shared the "bittersweet" news: "The Gods above have blessed us yet again with another set of very handsome twin boys 'Arthur Jaitly Haag' and 'Shamsher Jaitly Haag' in Dubai on 10th September 2017. However, life is not always how we plan it to be. Our son 'Shamsher Jaitly Haag' succumbed to a serious heart condition and could not continue his journey in this world."
In her interview with IANS, she added: "After all that we have been through, all I can say is we have immense gratitude that the universe didn't leave our arms empty. It's just too painful to talk about." Celina Jaitly is married to hotelier Peter Haag - the couple are also parents to Viraaj Haag and Winston Haag, twins who were born in 2012.
"The last two months have been a tumultuous journey for us from losing my beloved father and now baby Shamsher, however there is always a light at the end of a tunnel, and that light for us is our handsome son 'Arthur Jaitly Haag' who seeks your blessings and love in his journey that he commences in this world. We thank you all in advance for your love and continued support," she had mentioned in her previous Facebook note.
The former beauty queen is based in Dubai and could only arrive in Indore in time for her father's last rites. Previously, Celina confessed that
she'd live with the guilt of not being with her father
when he died. "I couldn't reach in time to hear his voice one last time. That's a regret and guilt I'll live with all my life," she told IANS.
Celina Jaitly switched to Bollywood in 2003, making her debut with
Janasheen
. She is best known for her roles in films like No Entry, Apna Sapna Money Money, Money Hai Toh Honey Hai, Golmaal Returns, Paying Guests and Thank You.
Celina Jaitly married Peter Haag in 2011.
(With IANS inputs)