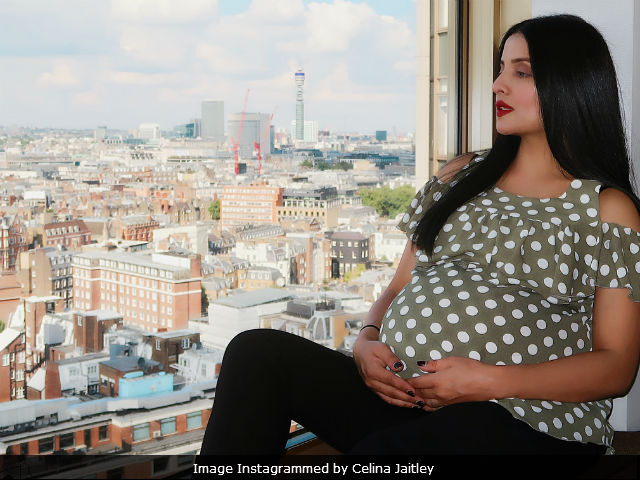 Highlights
Celina Jaitley gave birth to twins this September
One of the twins couldn't survive due to a heart defect
"Life is not always how we plan it," wrote Celina Jaitley
New Delhi:
Actress Celina Jaitly, who is married to businessman husband Peter Haag, gave birth to her second set of twins on September 10. On Saturday, the actress revealed a 'bittersweet' news, which will definitely not delight her fans and followers. Celina revealed that out of the two, one of the babies couldn't survive. She wrote: "On the auspicious occasion of Dussehra we would like to take this opportunity to share with you all the following bittersweet news." She shared the names of the babies and wrote, "The Gods above have blessed us yet again with another set of very handsome twin boys 'Arthur Jaitly Haag' and 'Shamsher Jaitly Haag' in Dubai on 10th September 2017. However, life is not always how we plan it to be. Our son 'Shamsher Jaitly Haag' succumbed to a serious heart condition and could not continue his journey in this world."
Of Shamsher, Celina, who is also a mother of five-year-old twin sons Winston and Viraaj, wrote, "Heartbreaking as that is we are very fortunate that a part of him still lives with us through Arthur, whose face will always remind us that an angel who looks exactly like him looks upon us from the arms of his grandfather, my father, in the heavens above, whom we also lost two months ago."
Sharing her 'tumultuous' journey and seeking blessings for her new born child Arthur, the 35-year-old actress wrote: "
The last two months have been a tumultuous journey for us from losing my beloved father
and now baby Shamsher, however there is always a light at the end of a tunnel, and that light for us is our handsome son 'Arthur Jaitly Haag,' who seeks your blessings and love in his journey that he commences in this world. We thank you all in advance for your love and continued support."
Read more about it here:
Celina, who won Miss India Universe in 2001, married Peter Haag in 2011. An year later, on March 24, twin boys Winston and Viraaj Haag were born to the couple.
Take a look at Celina and Peter's
twins Winston and Viraaj here:
Celina has featured in films like
Janasheen
,
No Entry
and
Golmaal Returns
.