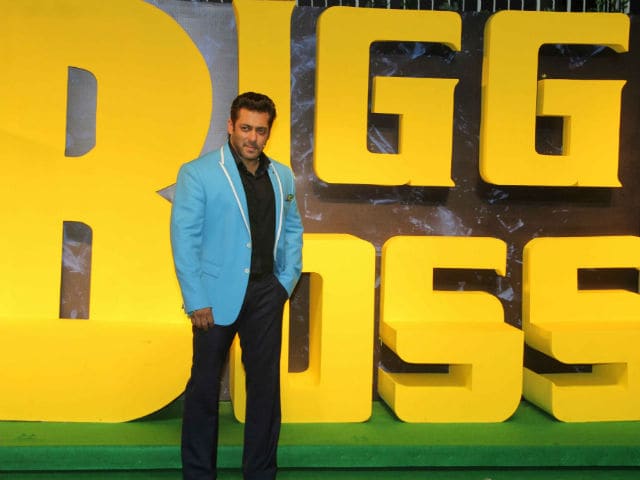 Highlights
Salman Khan says celebrity contestants should maintain their dignity
Salman says people who misbehave in the show do not get work
The premiere of Bigg Boss 11 will happen tonight
New Delhi:
Actor Salman Khan, who is all set to host the 11th season of popular reality show
Bigg Boss
, says, people who misbehave on
Bigg Boss
get no work, reports news agency PTI. The 51-year-old actor will host the show for the seventh time, which has a new theme called
padosi
. In
Bigg Boss 10
, some of the contestants unnecessarily engaged themselves in ugly fights with other inmates of the house (remember Swami Om and Priyanka Jagga, but more about them later) After these incidents, Salman was quite upset and asked them to leave the
Bigg Boss
house. Of celebrity contestants in the house, Salman said that there is a certain responsibility on the celebrities to maintain their dignity inside the house, reports PTI.
"When you become a celebrity, you have a responsibility. So you don't want to go down that way. If you react to a common man being a celebrity, people will say 'Look at him, this is not good.' If a common man does the same to a celebrity, people don't enjoy that either. If it is all fun and games, then good. But you need to take care of your image as well," PTI quoted Salman Khan as saying.
The
Kick
actor also says that he is aware that some people on the show come to revive their career but only those who show class inside the house go a long way. He said, "Most of the people who have not been very well behaved in the
Bigg Boss
house have got no work at all. But people who have shown maturity, dignity, class, poise and some substance, they have always got work," reports PTI.
Last year, Salman threw out Swami Om (a self-styled godman) from the house, a contestant who broke several rules and crossed limits when he threw his pee on other contestants of the house. Salman says that only in times of crisis he gets involved otherwise he does not interfere when it comes to selecting candidates.
Of Priyanka Jagga(who was also asked to leave the house for her ugly fights and dirty comments on other contestants) and Swami Om, Salman said, "In the last season, I asked them to leave the house and the team supported me on that decision. But I don't take part in the phase of choosing contestants. If some characters go way off in the house, then that decision is mutual. It's not good for the show," reports PTI.
Of people not liking the show, the
Ek Tha Tiger
actor told PIT: "But I don't follow criticism, it doesn't bother me. Even right now they might be writing really nasty things about me but I don't get bothered because I am not reading it."
Apart from this, the makers of the show revealed that Shilpa Shinde, who is popularly known as
Angoori bhabhi of Bhabhi Ji Ghar Par Hain, w
ill be the first contestant to enter the
Bigg Boss
house.
The makers also revealed the names of the first four
padosi
contestants like Haryana based dancer Sapna Chaudhry.
The premiere of Bigg Boss 11 will happen tonight
at 9 PM. Don't forget to watch it and find out what Salman Khan and
Bigg Boss
contestants have in store for us.
(With inputs from PTI)