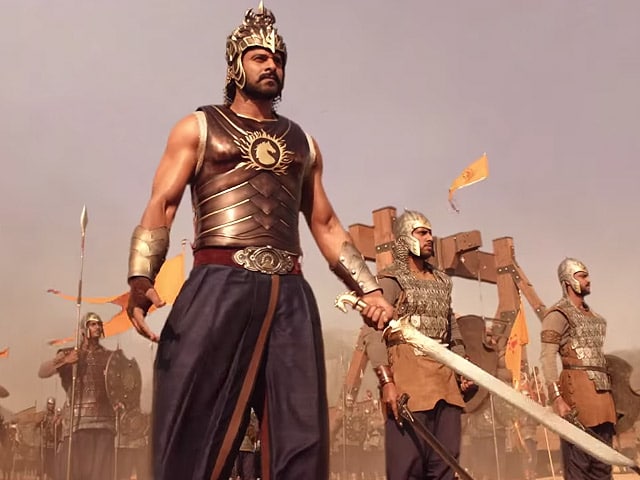 Highlights
"We have even shot for 24 hours," said Senthil Kumar
"I would have to wake up at 4.30am every day,'" he added
"I hardly saw my children grow up," said Senthil Kumar
Chennai:
Team Baahubali: The Conclusion
has every reason to cheer and take a well-needed break, once the film releases on April 28. The much-awaited film has taken over a large chunk of over four years of its cast and crew. All through the exhaustive schedules, what was it that kept the team motivated to give it their best shot? How much of their personal lives did the crew put on hold so that one of the most mammoth productions in India could take shape? In an exclusive chat with KK Senthil Kumar, the cinematographer of
Baahubali
, we get a sneak peek into some of the behind-the-scenes moments of this historical epic.
Senthil Kumar, who has worked with director
S S Rajamouli in several films prior to Baahubali
, like
Maghadheera
and
Eega
, says "
Baahubali
is my eighth film with S S Rajamouli. He is a visionary director. He has a head brimming over with lots of great ideas. Everything is done by him by meticulously planning in advance."
For over four years now, Senthil Kumar admits he has had no such thing as a social life. "A film of such magnitude required a detailed pre-production planning process of which I was a part. Then began the actual shoot. It was shot majorly in Hyderabad but at a distance from my home, at Ramoji Film City. So I would have to wake up at 4.30am every day to reach the studio at 6.30am, in order to begin shoot at 7am. At 6pm, we could hit pack up but I would have to stay back and discuss the next day's shoot till 7pm on most days. By the time I would get home through the traffic it would be 9.30 pm. This was my daily routine for nearly five years. Usually in other films, one would shoot for 15 days and then take a break for a few days. But for
Baahubali
, it was entirely different.
For instance, for the war sequences in the film
, we shot continually for 120 days with just breaks of one or two days in between. Whenever we shot outdoors in the Film City premises, we could pack up at 6pm because light would fade after that. But the days we had to shoot indoors on floor sets in the Film City, the shooting would extend until late in the night if needed because the lighting was artificial and therefore under our control. So, if there was some delay or some improvisation needed, we would continue shooting till late at night. Our main priority would be to complete the scenes and on certain occasions, we have even shot for 24 hours to complete the scenes."
"Nothing would stop us"
Senthil Kumar also was on his toes, improvising on location. He recalls, "During one schedule planned in Mahabaleshwar, our work was impaired due to the continuous rains. We had reached the location with our cast and crew based on the weather report that skies would be clear. But the unexpected rains continued to play spoilsport. With the entire crew waiting, I told Rajamouli that we could improvise. So I took a call and changed the shoot plan, which was then shot in low light with a cloudy backdrop. So we shot all the scenes with a different mood and tone, so that time and resources were not wasted."
Senthil Kumar gives credit to his family for being a pillar of strength thereby helping him concentrate on his work, "With the long and erratic hours of work involved, you could say that my social life was dead. My two sons were four-and-half and three and-a-half years old when Baahubali began. I hardly saw them grow up. The only way I managed it all was with the help of my wife Ruhee, my mother and my sister who have all been a huge support. With them holding the fort at home, I was able to focus entirely on Baahubali."
Senthil Kumar, who lost his father some time back, said: "When my father expired, I was shooting for
Baahubali
part one, in Kerala. He had a heart attack in Hyderabad. I rushed back for the funeral ceremonies but could stay only for two days since I had to get back to work in Kerala. I didn't have time to grieve for him properly. Through all these trying and exhausting times, it was director Rajamouli's vision and our collective belief in this film that kept us all motivated. Later, once Baahubali part one got such a rousing reception that motivated us to keep going for the second part as well."
Actors Prabhas,
Rana Daggubati, Anushka Shetty, Tamannaah Bhatia
, Sathyaraj and Ramya Krishnan reprise their roles in
Baahubali: The Conclusion
, which is scheduled for April 28.
(Except for the headline, this story has not been edited by NDTV staff and is published from a syndicated feed.)