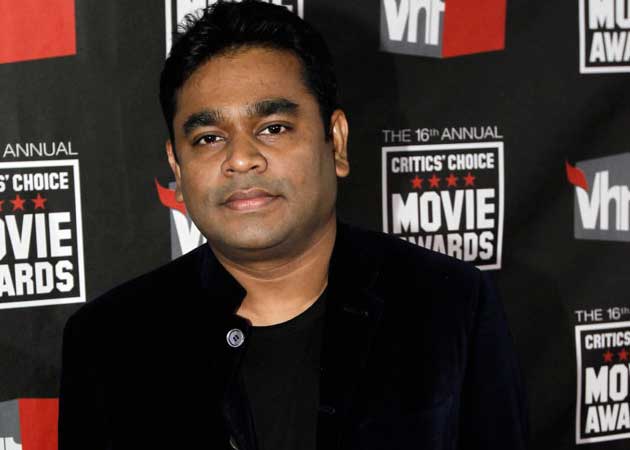 New Delhi:
AR Rahman straddles different continents, cultures and a cornucopia of commitments. Though the journey is "tough", the Oscar-winning composer says he makes sure to pick projects which don't let him get bored of his work.

In an interview, he has spoken about juggling between different places, his new projects and life away from his family.

Ques: You are rarely able to do Bollywood scores these days. How do you manage to turn down Mumbai producers politely?.
AR Rahman: (laughs) It's tough, very tough. But at this juncture of my career, I only want to do the music that motivates me to work harder. Otherwise, you lose your audience. The relationship becomes like an old boring marriage.

Ques: What do you mean?
AR Rahman: It's very important for me to not get bored with the work that I'm doing. That's why after doing a series of epic/period films, I did something young like the song Khalifa in Lekar Hum Deewana Dil. After that I've only said yes to Shekhar Kapur's Paani and Imtiaz Ali's Tamasha. And I've also said yes to Rhea Kapoor, Anil Kapoor's daughter's film. That's about it for now.

Ques:. Are you tired of the epic scores?
AR Rahman: Not at all. I love doing them. So much detailing and labour goes into them. Every epic score is an elaborate experience. On a personal level, it is also very enlightening for me to visit a particular era. While doing the music for a period film, I discover a whole new culture.

Ques: Do you enjoy rediscovering a culture as you create a music score?
AR Rahman: Immensely. But at the same time, it is also important to find an emotional connect with the filmmaker that I work with.

Ques: Are you happy with the treatment of your songs on screen?
AR Rahman: Well, a lot of my very good songs in films like Rang De Basanti and Delhi 6 were used as soundtracks in the background. They were not used as lip-sync. So the reach of those songs was just 30 or 40 per cent of what it was meant to be. Songs that are sung by major stars on screen get played in clubs and on radio. They make a psychological impact on the audiences' mind. One reason why I want to do music in young stories is because these films allow their actors to sing on screen.


Ques:
How do you manage your time between India and abroad?
AR Rahman:
It's tough. When I have a project abroad, it takes me a month or a month-and-a-half to take care of it. I go with the flow, basically. Thankfully, communication is far easier today than it was when I started out with my international career. I can be connected to and from any part of the world.
Ques:
What international assignments have you done lately?
AR Rahman:
I've completed two assignments
Million Dollar Arm
and
The Hundred Foot Journey
. Both were very satisfying experiences. The working methods abroad are entirely different from home. Fortunately, I'm given the liberty to do purely international sounds abroad. I don't have to use Indian instruments.
Ques:
But you do miss your family when you're abroad?
AR Rahman:
It's a sacrifice. I'm missing out on my children growing up. But sometimes I do take my children abroad with me when they have school vacations. But they can't accompany me everywhere. It's not possible to wrench them away from their lives and ask them to join me wherever I am.
Ques:
Do you miss having time to just relax?
AR Rahman:
That's one of the advantages of being abroad. You don't get mobbed on the roads. People leave you alone even if they recognise you. I can take long walks without being disturbed. All those things that I miss doing at home, I am able to do when I am abroad.
Ques:
You are now 47. How do you manage to sound so young in your music?
AR Rahman:
Because when I was actually very young, I didn't get a chance to feel young. As a child, I spent so much time with musicians who were 40-plus, chewing paan and discussing classical styles. I felt like one of them as a child. Today I feel younger than I did when I was actually young.