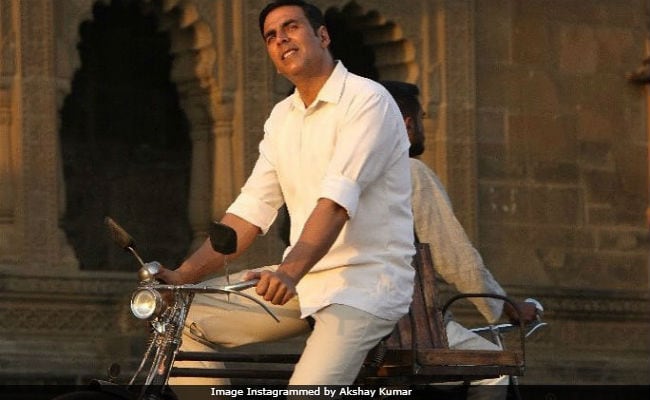 Highlights
Ripu Daman Jaiswal had registered the script on 5th of December 2016
"Filed a police complaint on January 23, against everyone," he tweeted
PadMan was released on February 9
New Delhi:
Akshay Kumar's new film
PadMan
has been accused of plagiarism by a man who claims it has been copied from a film script he wrote and registered with the Screenwriters Association in December 2016. Ripu Daman Jaiswal alleges that his script was based on Arunachalam Murugunantham, the inventor on whom
PadMan
is based, and that he mailed the script to Karan Johar's Dharma Productions and filmmaker Vikramaditya Motwane. He claims that
PadMan
, produced by
Akshay Kumar's wife Twinkle Khanna
, was announced just days after he allegedly mailed his script to the production houses. Mr Jaiswal posted a series of tweets when the film released last week, in which he alleges that 11 scenes from the film have been lifted and claims to have filed a police complaint 'against everyone.'
Intermission of PadMan. 11 scenes has been copied from my script uptil now and even one of the character. That's it. I am definitely going to court.

— Ripu Daman Jaiswal (@Shivashorcrux) February 9, 2018
I remember I was in the library when I wrote this dialogue and was truly elated. Honestly, I surprised myself that day. Tell me, how on earth can you steal someone's dialogue?
This is unfair.

(Amitabh Bachchan quoted this dialogue in PadMan.) pic.twitter.com/9mQN3Jlt8T

— Ripu Daman Jaiswal (@Shivashorcrux) February 10, 2018
R.Balki! I tried everything!
I even filed a police complaint at Cuffe Parade station on 23rd of Jan against everyone. Tell me, what more can I do? S.I told me I have a good case & they will look into the matter & will call me after investigation. Am still waiting for that call.

— Ripu Daman Jaiswal (@Shivashorcrux) February 9, 2018
Mr Jaiswal confirmed to
The Quint
that he had gone to the police and claims that he will also write to Maharashtra chief minister Devendra Fadnavis.
PadMan
director R Balki has dismissed the allegations of plagiarism, telling news agency PTI: "That's so foolish. After every film, some people foolishly make these claims. My film is an official biography of Muruganantham. Is he accusing Muruganantham of leading a life that has been copied from his writing? That's so silly."
In December 2017, Ripu Daman Jaiswal posted screenshots of what appears to be his emails to a Dharma Production executive. In his post, he wrote: "One and a half years ago, I had written and registered a film based on the works of Arunachalam Muruganantham and Saati biodegradable sanitary pads. Have you heard about them? Yup, Arunachalam Muruganantham is the guy who had made low-cost sanitary pads for rural women. I had registered the film on 5th of December 2016 from Screen Writer Association and sent to Ryan Stephan (Karan Johar's production - Creative head) and personally to Vikram Aditya Motwane. And you know what happened? After ten days on 16th of December 2016, I heard the news that Mrs. Twinkle Khanna revealed that her production is making a film based on his life, starring Akshay Kumar."
Read his full post here:
There has been no response from either Twinkle Khanna or Akshay Kumar.
PadMan
is based on the life of a social entrepreneur Arunachalam Muruganantham, who manufactured affordable sanitary napkins for the women of his village. The film, also starring Sonam Kapoor and Radhika Apte, had earned
over Rs 40 crore
at last count.
(With inputs from PTI)