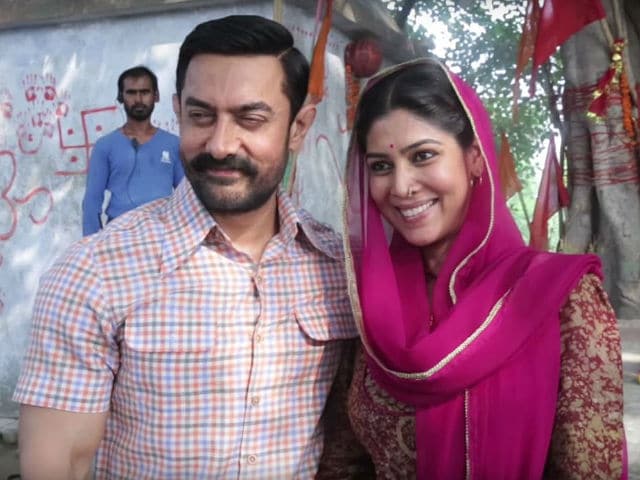 Highlights
Initially Aamir's mother suggested Sakshi Tanwar's name for Daya
Sakshi auditioned only after Aamir suggested her name
Dangal releases on December 23
New Delhi:
An absolutely heartwarming video released by the makers of
Dangal
on Tuesday encapsulates actress Sakshi Tanwar's
experience of the Aamir Khan film
, out next week.
Dangal
, one of this year's most-anticipated movies, stars Aamir as real-life wrestler Mahavir Singh Phogat. Sakshi is cast as his wife Daya Kaur - that, in itself, is quite a story. "
Mujhe ek phone aaya ek din, Dangal ke liye. Pehle toh mujhe laga kuch mazaak jaisa kuchh hai
(I got a call for
Dangal
, thought it was a prank)," Sakshi says. "Sakshi
ji
never crossed my mind till Aamir suggested her. I didn't know how to react to that because I never saw Sakshi
ji
in this kind of role," says director Nitesh Tiwari. Oh, so it was Aamir Khan who had this casting brainwave? Not quite.
It was, Aamir says, his mother who recommended Sakshi Tanwar. "
Yeh
idea
mujhe aaya Ammi ke wajeh se, kyunki Ammi
TV serials
dekhti hai aur Sakshi badi pasand hai
(Ammi watches TV serials and she likes Sakshi)," Aamir reveals in the video. In two days, Sakshi had been auditioned and cast. Till then, Aamir says he had no idea what working with her would be like. Happily, he discovered that "Sakshi
ji itna kamaal ka kaam karti hai
(she does such a wonderful job)."
Of the one-take actress, Aamir says, "She gives her shot with honesty and sincerity."
Sakshi explains the character of Daya Kaur as a 'peacemaker,' holding the family together and sometimes interceding on behalf of her daughters, at other times on behalf of her husband. Originally from Alwar, which is on the border of Rajasthan and Haryana, Sakshi says she had often heard the Haryanvi dialect spoken, describing it as a "cool language."
Much has been said and written about Aamir Khan's
incredible dropping of 25 kilos
in five months to play Mahavir Singh Phogat as a young man. For Sakshi, the transformation was majorly sartorial and her most thrilling wardrobe moment on set was when she got to wear a bright pink dupatta, after having filmed her scenes as the middle-aged Daya Kaur in more sober colours.
If Sakshi Tanwar had to sum up her
Dangal
experience, this is how she would put it: "One day, the universe decided to be generous."
Video: Watch behind-the-scenes footage of Sakshi Tanwar in Dangal
Dangal
's cast also includes actresses Sanya Malhotra and Fatima Sana Sheikh, who play the Phogats' daughters Geeta and Babita.
Dangal
releases on December 23.