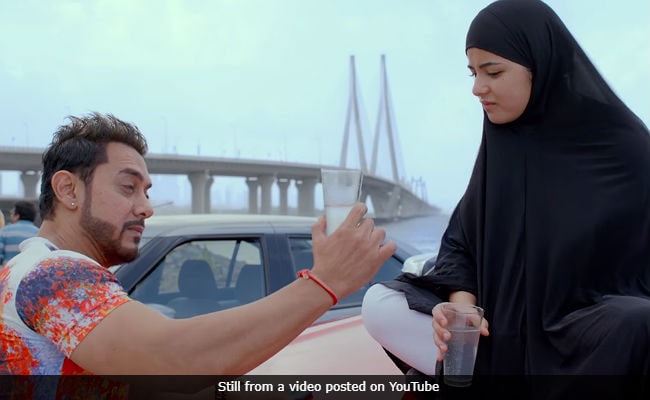 new delhi:
Aamir Khan says that the day actor who has the "ability to fill seats" deserves "bigger share in fees" regardless of their gender. Aamir Khan has given Bollywood its top money spinners such as
Dangal
,
PK
and
3 Idiots
. Aamir, 52, who
co-stars with Zaira Wasim in upcoming Secret Superstar
, was asked whether he would be okay if his female co-actors got a bigger pay cheque than him. Speaking to news agency PTI, Aamir said: "Anyone who has the ability to fill seats gets a bigger share in the fee. So the day she (Zaira Wasim who debuted in
Dangal
) will be able to fill more seats then me I won't mind her getting a bigger paycheck than mine."
"And that is not going to be determined by her gender, it is the market that will determine that. As a producer, I will want her if she is benefiting my film, gender doesn't matter. I will give her value, from a purely economical point of view," said Aamir, who also co-produces most of the films he stars in. Aamir Khan also explained that every film has one or two members in the team, who become the point of attraction for the movie-goers. "
That is what we describe as stardom
. That could be Salim-Javed as writers and Rahman as a music director," he said.
Watch the trailer of
Secret Superstar
:
Aamir Khan didn't stop at wage gap disparity between actors and actresses and extended the discourse to a film's creative and technical team. "I don't understand why is a cameraman's or an editor's work less important than an actor's. I strongly feel all the people in the creative team are contributing equally and should be paid equally. Everyone should be valued equally. There are only two people, who can be valued a little higher - the director and the writer," he said.
Aamir Khan told PTI that the only way to bring a change in the showbiz industry's pay design is with a change in society's attitude, which does not see "women as heroes." He said: "We don't see women as heroes. We start planting these thoughts in our heads since childhood. There has to be a paradigm shift in that. I am someone who strongly believes in equality whether you are man or a woman. But ultimately in the economics of cinema anyone who pulls people in will be paid higher. There is no question about it."
Aamir Khan is currently filming
thugs Of Hindostan
for Yash Raj Films, which also stars Fatima Sana Shaikh, Katrina Kaif and Amitabh Bachchan. The plot of the Vijay Krishna Acharya-directed film, will be from Fatima's character's point of view.
(With inputs from PTI)