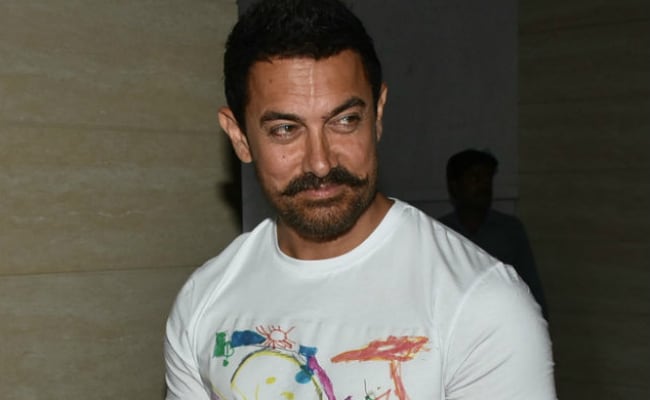 Highlights
"Everybody has a right to protest," said Aamir
"But no one should take violence in their hands," he added
"I don't believe in that philosophy," Aamir Khan added
New Delhi:
The Supreme Court may have turned down repeated appeals
to ban Sanjay Leela Bhansali's Padmavati
but protests from several Rajput outfits continue. Of the Rajput outfits leading protests against the much anticipated period piece, the Karni Sena has threatened to cut off lead actress Deepika Padukone's nose while a BJP leader has assigned a price on her head. Death threats have also been extended to the director, who was previously physically assaulted by the Karni Sena on the sets of the movie in
Jaipur
. "It reflects badly on us when things like this happen," superstar Aamir Khan told news agency PTI in an exclusive interview. Aamir made oblique references to the movie and appeared to avoid commenting directly on the
Padmavati
row.
Rajput outfits protest to an alleged romantic sequence between Alauddin Khilji (played by Ranveer Singh) and Rani Padmini (Deepika plays the part), which the director continues to deny exists.
Padmavati also stars Shahid Kapoor
as Rani Padmini's husband Rawal Ratan Singh.
The film has been postponed indefinitely and is currently awaiting clearance from the Censor Board. The director recently appeared in front of a parliamentary panel to put across his point of view. The chief ministers of the states of Madhya Pradesh, Gujarat and Rajasthan have already declared that the film will not be released in their states while the apex court has instructed the Censor Board to review the film and take a final call.
The
Padmavati
controversy can only be termed as "unfortunate," said the 52-year-old actor. "I feel that everybody has a right to protest. But I think in a democracy and in a country where we believe in the rule of law, I don't think anyone should be threatening people with violence. That is most unfortunate," Aamir Khan said in his interview, adding violence is not a solution. "As an Indian, it makes me sad. It is not just restricted to a film personality, it could be anyone. The rule of law should be upheld and no one should be above the law and no one should take violence in their hands," he told PTI.
"No matter what walk of life you are in, whether you are a film person or a non-film person, you could be a doctor, an engineer, a government servant, but to be threatened physically is most unfortunate. I don't believe in that philosophy," Aamir Khan added, said PTI.
Padmavati
is said to be based on the legend of Rani Padmini, who performed jauhar to evade capture by Alaudin Khilji, who was on his way to conquer Chittor. Reports state that
Padmavati
makers are now looking at an early 2018 release.
Previously, Bollywood has unanimously criticised the protests and condemned the Rajput outfits' reaction to the film in strong words, with stars like Salman Khan, Hrithik Roshan, Kangana Ranaut, Richa Chadha and others speaking in support of the film. Shabana Azmi and many of her colleagues like Anushka Sharma, Jaya Bachchan, Aishwarya Rai Bachchan, Vidya Balan and Konkona Sen Sharma have reportedly
signed a letter and sent it to Prime Minister Narendra Modi
to take action on the threats made to Deepika for
Padmavati
.
Aamir Khan is currently filming
Thugs Of Hindostan
, starring Amitabh Bachchan and Katrina Kaif.
(With PTI inputs)