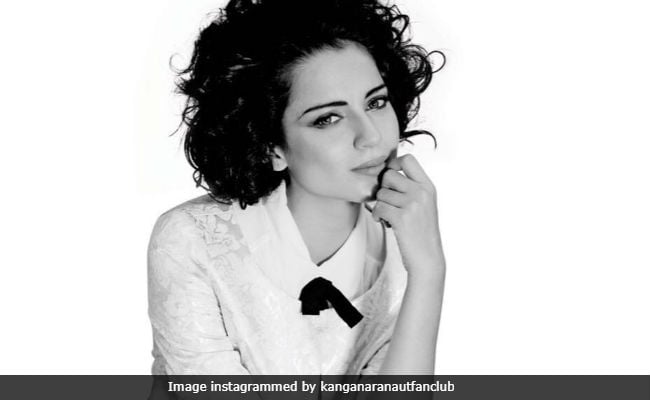 Highlights
Kangana had refused to sign Shabana Azmi's 'Deepika Bachao' petition
We should attack patriarchy and chauvinism, not individuals: Kangana
Deepika Padukone's Padmavati has been indefinitely postponed
New Delhi:
The threats made to actress Deepika Padukone are wrong but not surprising, Kangana Ranaut said in Mumbai on Thursday. Deepika, whose film
Padmavati
has been indefinitely postponed pending Censor Board clearance, has been hounded publicly with a Rajput group called Karni Sena threatening to cut off her nose and a BJP leader putting a price on her head. Kangana, who recently refused to participate in a petition against the threats made to her colleague, drew on her personal experience with a male co-star and an acid attack her sister Rangoli survived while in school while speaking to the press at a Reebok event.
"It is absolutely wrong, but I feel it is not something which is very surprising. When my sister was in school, she faced an acid attack from a student and now when I am in a professional environment, a superstar is trying to put me behind bars. So, this is very common that happens in our society," Kangana said, reports news agency IANS. The 'superstar' she refers to is actor Hrithik Roshan who she claims a past romantic relationship with and who has filed a police complaint against the actress for alleged stalking.
"I feel we should not attack individuals, we should attack patriarchy and chauvinism. For individuals, we can call them out and say whatever you are doing is not right," Kangana Ranaut said, reports IANS. It is the view point that needs to corrected, whether expressed by men or women, she added.
Last week, reports emerged of a letter campaign to Prime Minister Narendra Modi asking him to look into the threats made against Deepika Padukone. Spearheaded by Shabana Azmi - one of those who criticised the Censor Board for not certifying Padmavati - the letter was reportedly signed by Anushka Sharma, Vidya Balan and a handful of other actresses.
Kangana did not sign and was the only person to acknowledge the letter's existence
. In an explosive statement, she explained that she refused to participate in what she called 'Deepika bachao' because of Ms Azmi's involvement and not, as some reports had suggested, because she and Deepika share a rumoured history of friction.
Read Kangana Ranaut's statement about the letter, made last week:
"I was filming
Manikarnika
in Jodhpur, got a call from my dear friend Anushka Sharma to sign the petition written by Ms Shabana Azmi, I explained to Anushka that Deepika Padukone has all my support but I am a bit wary of Shabana Azmi's investment in left wing vs right wing politics. I have my own set of ideas and opinions about the current situation in our country, I am on the fence about many things and being a part of a feminist movement called 'Deepika bachao' lead by someone who character assassinated me when I was bullied, seems to be one of them. Anushka understood but I am glad they reached out to me, like I said Deepika has all my support I am an individual perfectly capable of supporting who I like without anyone's support."
Speaking to the press in Mumbai on Thursday, Kangana Ranaut also dismissed comparisons between her Manikarnika character - she's playing Lakshmibai of Jhansi - to Deepika Padukone's Rani Padmini from
Padmavati
. "Our film is a different film. It's a film about a warrior queen who fought against British empire. I feel we should feel ashamed that we didn't make any film earlier based on her life," Kangana said, reports IANS.
Manikarnika: The Queen of Jhansi
is expected to release next April. There's no knowing when
Padmavati
, co-starring Ranveer Singh and Shahid Kapoor, will release.
(With inputs from IANS)